Luxury condominiums find LEDs from Acuity Brands a perfect fit for lighting upgrade
Acculamp SSL lighting from Acuity brands proved ideal for Action Property Management's renovation of a luxury condominium building in downtown Los Angeles.
Jan 26th, 2013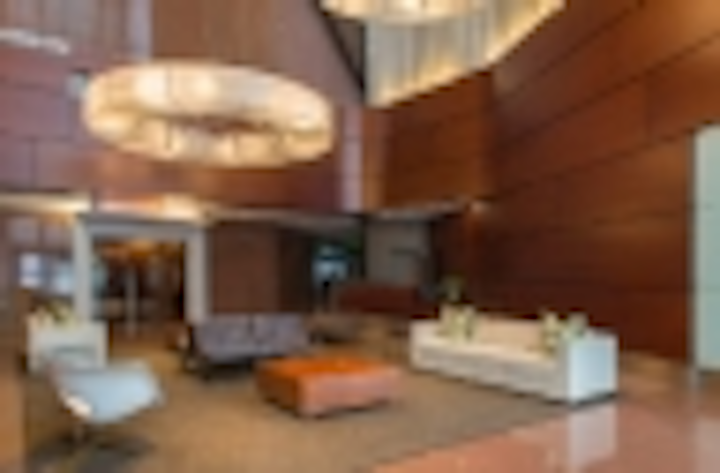 Action Property Management has chosen the Acculamp line of LED-based lamps from Acuity Brands for a recent lighting upgrade in common areas of a luxury condominium building in downtown Los Angeles. The upgrade turned to solid-state lighting (SSL) for energy efficiency and The Acculamp series was chosen due to its long life and ability to match the building's previous lighting conditions in both bream spread and lumen output.
"In general, we wanted the building to be more efficient," said Gregg Evangelho, building manager at Action. "We started with a parking garage lighting renovation, and after its success, we decided to expand the project scope to the entire building. We knew this renovation project had potential to provide significant electricity cost savings for our homeowners and residents."
The building, which included more than 700 50W MR16 incandescent downlights in common areas, required almost constant maintenance due to the low lifespan of the incandescent bulbs. The management firm had previous considered a transition to LED lamps both for energy and maintenance savings, but a trial resulted in concerns over quality.
"Our homeowners have high expectations for their space, and we are extremely cognizant that this building is their home," said Evangelho. "We created an initial demo site for the lighting renovation about two years ago using LEDs. The lights emitted an icy blue hue – not the warm glow we wanted."
The management company would only consider a transition to SL, if the new lighting could provide comparable quality and color rendering relative to the incumbent. Action partnered with Performance Lighting Systems to further investigate a transition. The partners installed a 6W Acculamp MR16 with a 36° beam in a corridor where members of the home owners association (HOA) could experience the lamp performance. David Komonosky of Performance Lighting said, "The HOA could not tell it was a different lamp, and the beam spread and lumen output met the challenge of the fixture spacing."
Action ordered more than 500 Acculamp ALSMR16 lamps from Acuity Brands and used its own maintenance staff to replace the old lamps. "The installation was incredibly easy, and we were thrilled to be able to use our internal maintenance staff," said Evangelho. "It really was as simple as changing a light bulb."
The renovation was completed in early 2012. "I saw just what I expected to with the new lamps, and that's a good thing," said Evangelho. "The space looked the same, and I could not see the individual diodes from the LEDs, which was very significant. The lamps looked like a traditional source, but gave us the energy savings we needed."
Action expects energy savings to be approximately $17,000 each year, which means the new lighting will pay itself off in seven months. The lifespan of the new lamps also keeps maintenance costs down. Many of the common areas are lit 24 hours a day, and the incandescent amps laste only 2000 hours. About the incandescent lamps, Komonosky said, "Maintenance crews were meticulously changing burned out lamps on a routine basis."
After the success of the initial installation, Action ordered 200 additional lamps for usage in areas such as the fitness area, media room, and conference room. For their next step, Action plans to continue its building efficiency upgrade through investigating new stairwell lighting solutions.