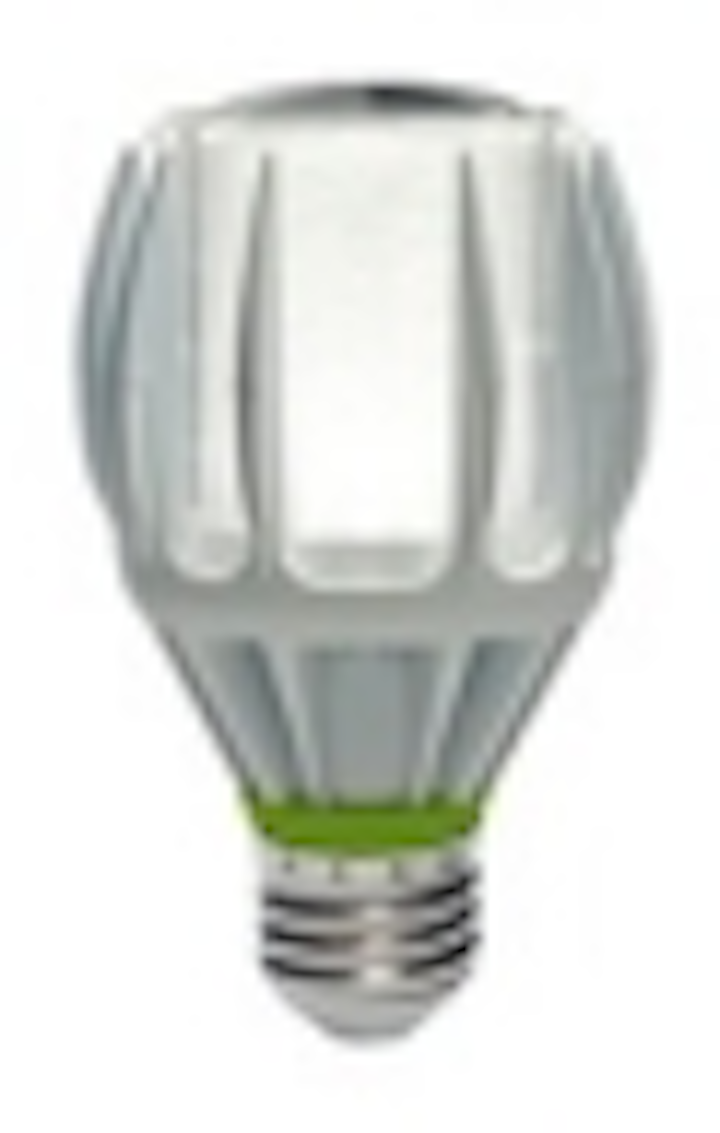 Rambus used the Consumer Electronics Show (CES) in Las Vegas as a venue to announce an LED-based retrofit lamp based on the company's MicroLens light-guide technology. The company, which focuses on licensing its intellectual property (IP), will rely on partnerships to sell the lamp and Elite Group will be the initial source for a 60W-equivalent, solid-state lighting (SSL), A19 lamp due in the second quarter.
In general, a light guide carries rays from the LED sources and small optical elements embedded within the layers of the guide deflect some rays to direct light outward from the surface of the guide. The result is a naturally diffuse light. Rambus calls its light guide technology MicroLens and it is based on patents that Rambus acquired from Global Lighting Technologies back in 2009.
Primarily, MicroLens has been used to date in flat planar-lighting applications. In the retrofit lamp design, Rambus used three cylindrically shaped, light-guide segments that in total comprise a complete cylinder that can deliver a 360° omnidirectional beam pattern (see nearby photo).
Lamp design
Evidently, the LEDs are mounted in a circular pattern around the base of the lamp under the light-guide segments. Presumably, the design results in a reduction in the bill of materials and simpler manufacturing. "Our unique design has all the benefits of the best LED technology available and offers a significant bill of materials cost savings," said Jeffery Parker, president of the Rambus Lighting and Display Technology division.
The design does provide significant opportunities for cooling the LEDs with air channels between the three segments along with cooling fins evident on the outside of the lamp. But the company has not released detailed specifications in terms of photometry or reliability.
The use of a light guide is relatively unique in the LED retrofit lamp space. To date, only the 3M lamp has used a light guide. That design also mounts LEDs in a circular fashion but the guide is spherically shaped.
Rambus has licensed its MicroLens technology to GE Lighting and Cooper Lighting, and Fern-Howard among others. GE Lighting recently announced its first shipping product that is a planar suspended pendant. At Lightfair last spring, Cooper showed both planar designs and products that utilized a cylindrical segment – although all were luminaires and not lamps.
Rambus has completed a pilot run manufacturing the new lamps. But the company is ultimately intent on licensing its technology to others. The company initially said that the A19 lamps would be sold through partners, and subsequently announced Elite Group as the initial source for the lamp in North America. "We are excited to enter into a potential partnership with Elite Group that will provide a key channel to bring our LED bulbs to the North American market," said Parker. "We look forward to establishing a strong and productive business relationship with Elite with its broad range of world-class retailers."
"The Rambus LED bulb is high-quality, affordable, elegant and highly functional," said Danny Lavy, Elite Group CEO. "We are committed to consistently providing quality market-relevant products that leverage technology and design, and we expect this relationship with Rambus will provide revolutionary LED bulbs that will be extremely attractive to our key customers."