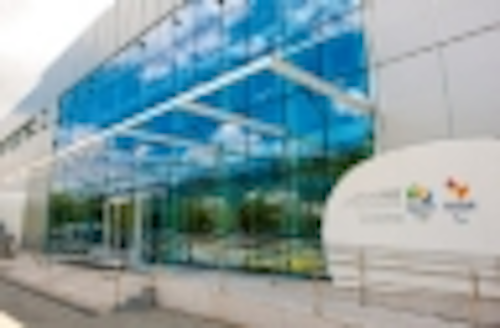 GE Lighting has announced that the headquarters building for the 2016 Rio de Janeiro Olympic and Paralympic Games is lit with Lumination ET Series solid-state lighting (SSL) that uses the company's Intrinsx light-guide technology. The Olympic Organizing Committee headquarters building is the first Brazilian deployment of the ET Series, and GE says that the project will deliver near $500,000 in energy savings, compared to fluorescent lighting, over the four years that the committee will use the building.
"The headquarters of the Organizing Committee for the Olympic and Paralympic Games Rio 2016 is a project that seeks to use best practices in the adoption of energy-efficient technologies and solutions, creating an important and lasting legacy for the Brazilian society," says Leonardo Gryner, operations general director for Rio 2016. The building interior is designed in a modular fashion and will be adaptable for future use including the installed lighting after the games end.
Maintenance costs were also a factor in the selection of the Lumination ET products. The committee expects virtually zero lighting maintenance over the course of four years with the products rated for 11 years of life.
"LED technology plays a fundamental role in the model that sustains the environmentally conscious construction of the new headquarters for Rio 2016," says Alexandre Ferrari, general manager of GE Lighting in Brazil. "We worked in partnership with Rio 2016 and the International Olympic Committee to create and enable a solution that combines energy efficiency, innovation, and long-term, tangible benefits."
The Lumination ET series is based on the Intrinsx technology that GE developed with intellectual property licensed from Rambus. The fixtures use an edge-lit light guide that essentially serves as a diffuser. The LED beams are directed by microscopic optical elements that are strategically placed in the guide during the manufacturing process to deliver uniform diffuse light.
The light-guide approach yields a planar fixture that is only a half-inch thick. The panels are installed in T-bar ceilings just as other troffer fixtures would be installed. Peter Gasper did the lighting design.
GE has a long history of working in partnership with the Olympic Games. For example, the company was behind the well-received outdoor lighting scheme for the Olympic Park at the 2012 London Games. GE has been a sponsor of the International Olympic Committee since 2006 and has extended the sponsorship agreement through 2020.