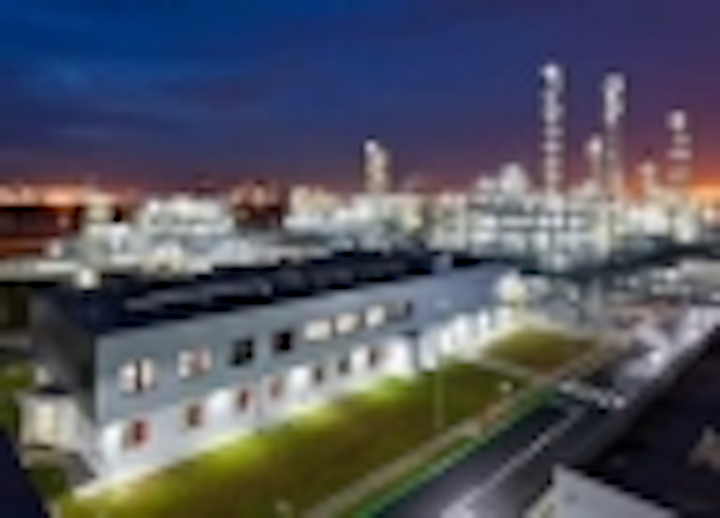 Lanxess, a specialty chemicals company, has converted its butyl-rubber manufacturing plant in Singapore to LED lighting. The company used 2,370 LED lighting fixtures from Dialight for indoor and outdoor process areas, and internal roads on the 200,000 sq.m site.
The original design for the facility on Jurong Island, Singapore, featured a mix of fluorescent T8s and metal-halide fixtures. In 2010, Lanxess gave Dialight the opportunity to propose a new lighting design based on LED lighting technology.
Lanxess's key objectives for the butyl plant were to be more energy- and resource-efficient, and also more environmentally friendly. Lighting was identified as a technology that could play an important role in achieving these objectives.
The lighting scheme called for fixtures that were certified for use in hazardous environments; that would deliver reliable lighting in normal and emergency-mode operation; and that would meet the requirements for reduced energy consumption and reduced maintenance.
The lighting also had to meet two specific standards. These are Singapore Standard SS 531, which recommends lux levels for different areas within a facility, and the Green Mark requirements in SS 530, which define the power consumption per square meter that must be achieved in order to be considered energy efficient.
During the detailed engineering phase Johannes Goertz, Lanxess' PCT Project Manager, also highlighted the company's special requirements for emergency lighting. Dialight was able to modify the design of the LED lighting fixtures with built-in battery backup to meet these needs.
Benefits
Dialight provided LED products for both non-hazardous and hazardous applications, enabling Lanxess to save a significant amount of energy while complying with the SS 531 and SS 530 specifications. Maintenance was also reduced significantly, helped by the 5-year performance warranty provided by Dialight.
Both energy consumption and carbon emissions reduced by 55%. According to Lanxess, the annual energy consumption was reduced by 1,150,000 kWh, equivalent to a saving of 241,500 Singapore dollars (US$193,000). This is also equivalent 811 metric tonnes of CO2 emissions avoided annually.
The return on investment (ROI) was estimated as 1.5 years for fixtures operated 24 hours a day, and 3 years for fixtures operated 12 hours a day.
The low operating temperature of the LED fixtures was also a health and safety benefit, since this removed the risk of burn injury. Such injury is relatively common with metal-halide lamps for anyone who might come into contact with the fixture.
Built-in surge protection was another important advantage offered by Dialight LED fixtures. During the rainy season in Singapore from October to December, the region is prone to lightning strikes which can cause surges, resulting in the burnout of unprotected fluorescent ballasts and the consequential expense of maintenance.