Cree and Philips drive LED lamp price toward $10
Cree delivers omni-directional 60W-equivalent lamp for $13 while Philips Lighting offers a $15 A-lamp in a snow-cone-style design.
Mar 9th, 2013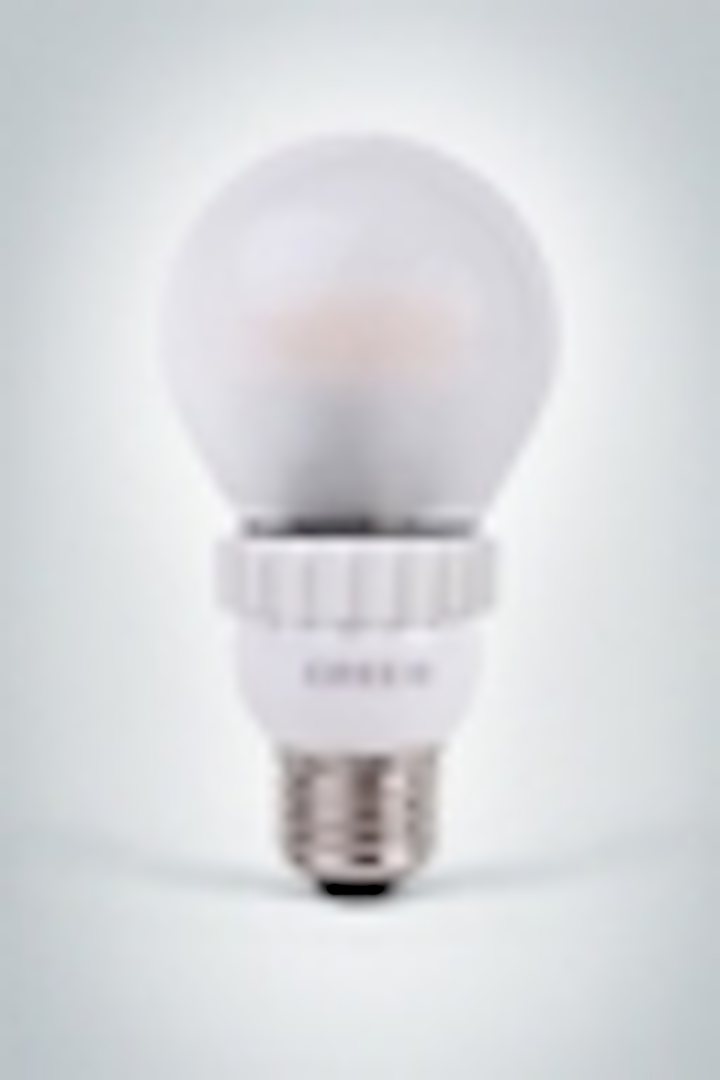 Cree and Philips Lighting have new 60W-equivalent LED A-lamps on the market at $15 or less and Cree also offers a 40W-equivalent product just under $10. Clearly 2013 will see solid-state lighting (SSL) replacements for 60W incandescent go below $10.
The Cree LED bulb family comes to market with three product options – a 6W $9.97 450-lm 2700K lamp, a 9W $13.97 800-lm 5000K lamp, and a 9.5W $12.97 800-lm 2700K lamp. The omnidirectional designs all have a CRI of 80 and support dimming with legacy triac-based and other phase-cut dimmers.
The Cree design looks very much like a traditional incandescent bulb as you can see in the nearby photo. There is a heat sink located at the base of the lamps, although it's white and not obtrusive in any way. The dome of the lamp is made of glass which Cree says offers better light transmission that the plastic globes broadly used in LED-based retrofit lamps. The glass is covered with a thin layer of silicon that presumably is present to protect the glass.
Cree said that the lamp is undergoing the Energy Star certification process at this time, but it expects approval. Still, a spokesperson said, "We expect to be qualified, but we're proud to offer the bulb at a price point that makes sense and pays for itself even without rebates."
To meet Energy Star guidelines, an omni-directional lamp must uniformly radiate light. Based on a purely unscientific evaluation, the Cree lamp seems to spread the beam very well. The lamp has a noticeably darker spot at the top of the globe when lit. But if you place a reflective sheet above the lamp, the light appears extremely uniform. And in a lamp shade, the lamp also provides excellent light distribution down on a table surface.
"The Cree LED light bulb was designed to offer consumers a no-compromise lighting experience at a compelling price," said Chuck Swoboda, Cree chairman and CEO. "Over the last couple of years we recognized that the consumer is instrumental in the adoption of LED lighting, but we needed to give them a reason to switch. We believe this breakthrough LED bulb will, for the first time, give consumers a reason to upgrade the billions of energy-wasting light bulbs."
Initially the lamp will be available at Home Depot with wider distribution planned for later in the year. Cree said that if customers replace the five most-used light bulbs in their home with the new LED lamps, that on average they will save $61 per year on energy. That makes the payback on the lamps just over a year.
Philips, meanwhile, quietly brought its $15 lamp to market without any major publicity push. Late last year the company had introduced 60W-equivalent lamps that were white in the off state yet were still shaped like the remote-phosphor-based lamps that have been among the market leaders (www.illuminationinfocus.com/news/3/12/1). Those products were priced at $25. The new Philips 10.5W A-lamp is priced at $14.97 and features a traditional round globe.
The Philips lamp outputs 800 lm at a CCT of 3000K. The lamp looks largely like a traditional incandescent bulb, although what would be the lower half of the bulb is actually not transmissive, meaning the lamp only emits light in the upper hemisphere. But there is no evident heat sink – just a smooth white surface on the lower half of the lamp.
Philips Lighting CEO Ed Crawford said the goal of the new design was to make the product affordable without utility rebates. Philips cut the cost by not including dimming support. Crawford said only one in ten installed light bulbs are connected to a dimmer.
Crawford was also bold in discussing coming products from Philips He said, "We have a $9.97 product coming this year. He said the next product could be an evolution of the $15 product or a new architecture.
Both the Cree and Philips lamps should offer consumers long installed life times. Cree rates its lamps for 25,000 hours and is backing the products with a ten-year warranty. Philips' new lamp is rated for 20,000 hours which the company says translates to more than 18 years in a typical usage scenario.