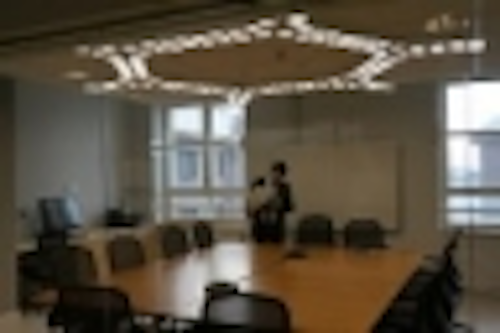 Acuity Brands has announced that the Trilia OLED luminaire from its Winona Lighting division is among the energy-efficient products installed at the new US Embassy Innovation Center in Helsinki, Finland. The Innovation Center houses the public offices of the US Embassy in Finland, and has been refurbished following a broad energy efficiency program that the Embassy hopes will achieve LEED Platinum status.
The Trilia installation is in an Embassy conference room and uses the unique geometric, scalable, and modular configuration of the fixture to realize a customized lighting scenario that fits the room. "The Trilia OLED luminaire was the perfect OLED solution for the Embassy because of the modular units that allow single luminaires to combine into distinctive, organic patterns," said Nancy Clanton, president of Clanton and Associates and lead designer on the project.
Trilia is one of the few OLED luminaires that is commercially available as we covered in an OLED feature last summer. The Trilia product is meant to be combined into unique shapes and patterns while still offering the general benefits of LED technology -- soft diffuse light from thin panels. Clanton added, "Ideal for the size and height of one of the conference room spaces, the Trilia design emphasizes the thinness of OLEDs while delivering an extremely comfortable and uniform distribution of light."
The Embassy had held a grand opening for the refurbished Innovation Center in late February. At that time, the US Department of Energy (DOE), said that the building used primarily LED-based lighting with most of the products being recognized in the Next Generation Luminaires competition that is managed by the DOE. The DOE said that there were no incandescent or fluorescent bulbs in the building.
Overall the Embassy was refurbished with the goal of using 38% less energy than similar buildings and the lighting is a major part of the reduction. "It is an honor for the Trilia OLED luminaire to be selected as one of the most advanced energy-efficient lighting technologies for the US Embassy Innovation Center in Finland," said Peter Ngai, vice president research and development at Acuity Brands Lighting.
While you might think that the Embassy installed expensive lighting products that aren't affordable for the mainstream, the DOE has refuted that thought. The DOE said that in aggregate, the Helsinki project will deliver taxpayers a return of 20-50% per year on the investment. The US invested more than $125 million in the project overall. It primarily used products and technologies from US companies. In the lighting area, another example is the comprehensive use of adaptive controls from Lutron.