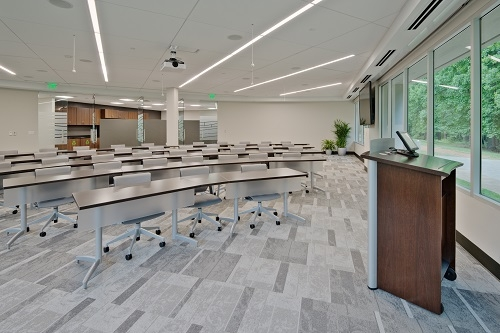 Lumination ET and BL Series luminaires deliver better light quality and energy savings in open work spaces and conference rooms at North American headquarters.
GE Lighting has announced a major solid-state lighting (SSL) retrofit project using its LED luminaires at the Ingersoll Rand North American headquarters in Davidson, NC. Specifically, the project involved the interior space in Building D including open office space and conference rooms covering 53,000 ft2 over two stories.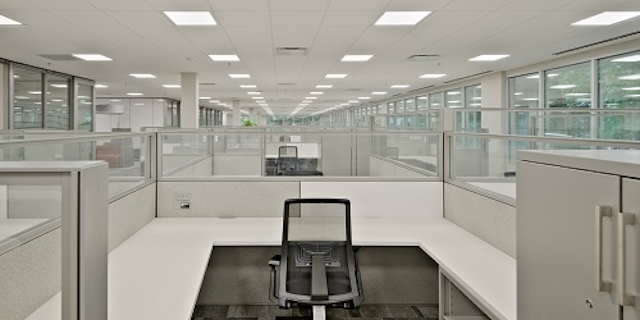 The LED lighting retrofit project was part of a larger effort at Ingersoll Rand to be environmentally conscious. "Ingersoll Rand is committed to making a more efficient use of resources a widely held value that becomes a central part of how its employees live and work every day; it is going beyond compliance, or simply following the rule," said Gretchen Digby, director of global education and engagement for Ingersoll Rand's Center for Energy Efficiency & Sustainability. "Ingersoll Rand wants to help its employees find ways to integrate the ideals and apply them to everything we do."
As part of the building refurbishment, the company recycled 49 truckloads of building waste. Moreover, 80% of the existing furniture was either repurposed or refurbished. The lighting and HVAC systems were the focus of energy-efficiency efforts.
For the lighting retrofit, GE supplied Lumination ET Series recessed troffers for common areas, offices, open work areas, small conference rooms and hallways. In large conference rooms, GE supplied Lumination BL Series LED luminaires.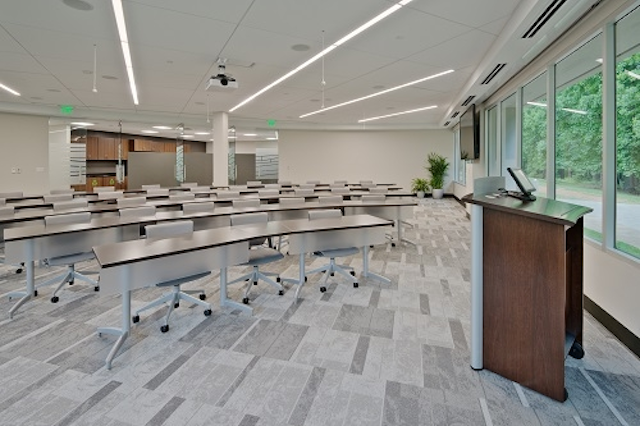 Ingersoll Rand upgrades headquarters with GE Lighting LED luminaires
The Lumination ET Series is one of several GE SSL product families that is based on the Intrinsx planar light-guide technology that GE licensed from Rambus. The company previously supplied 3000 of the products in the headquarters of the Rio de Janeiro 2016 Olympic Organizing Committee. The recessed fixtures provide a planar surface that delivers uniform, inherently-diffuse light.
The BL Series LED luminaires, meanwhile, are offered in 4- or 6-in. widths and can be cascaded seamlessly into lengthy runs providing continuous illumination. GE collaborates with USG Corp on the development of the family that was designed to work with USG's Logix Integrated Ceiling System.

Ingersoll Rand has documented the improved performance of the new lighting. The prior system delivered an average of 40 fc. The GE Lighting products deliver between 43 and 44 fc with much improved uniformity.
The company did not provide a direct comparison of the prior and present energy loads. But GE did say that building power density measured in watts per square foot is 36% better than the ASHRAE (American Society of Heating, Refrigerating and Air-Conditioning) guidelines. Moreover, the LED lighting generates little or no heat and has improved HVAC efficiency by 3%.