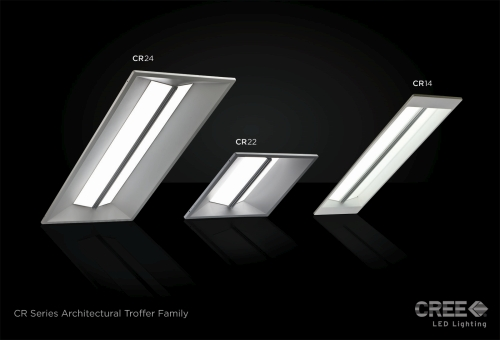 The two-channel-LED design present in some of Cree's TrueWhite-branded SSL products can also now deliver tunable color temperature via the SmartCast control platform introduced last year.
Cree (NASDAQ: CREE) has announced that the CR Series of LED troffers equipped with the company's SmartCast adaptive control technology will also now feature field-tunable color temperature. The newly-enabled tunable lighting feature marks the first time that Cree has supported variable CCT in a solid-state lighting (SSL) product and the feature will come at no additional cost to customers.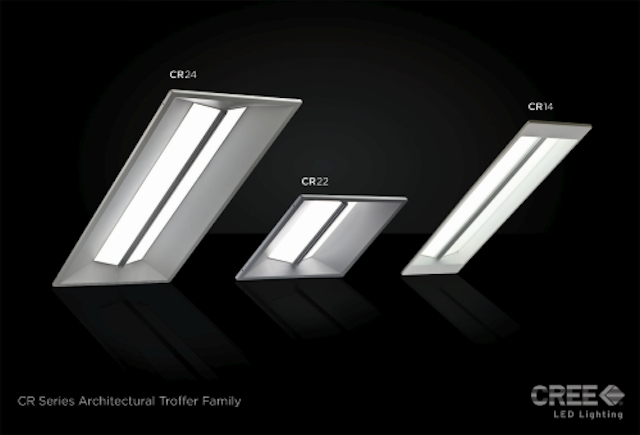 Cree LED fixtures equipped with SmartCast controls now feature tunable lighting capability
SmartCast is an adaptive lighting control platform that Cree launched one year ago for a number of SSL products including the CR Series, the CS Series of linear fixtures, and the KR Series of downlights. The scheme enables plug-and-play-like commissioning of fixtures within a room using a Cree remote control. The result is a simply-installed lighting system with occupancy-sensing and daylight-harvesting capabilities.
Two Cree technology platforms are key in the tunable lighting offering. SmarCast will be the avenue by which lighting designers or building owners can set the desired CCT in installed fixtures. The method by which Cree will enable the variable CCT feature is buried within the details of some of its TrueWhite implementations.
TrueWhite is a brand that Cree has used for years to indicate 90-CRI or better light quality in its higher-end products. The CR Series was launched as a TrueWhite product back in 2011. Cree has delivered the 90-CRI capability in a variety of ways in terms of product design. One common implementation, used in the CR Series, is a combination of what the company calls blue-shifted-yellow (BSY) LEDs combined with red LEDs in a product. The mix has delivered high-CRI white light with a lesser efficacy penalty relative to other high-CRI approaches such as using a 90-CRI phosphor-converted white LED. Today, newer 90-CRI LEDs have also become much more efficient, but there are many 90-CRI products on the market that use the two-channel approach.
The CR Series already used the LED-mix approach and included a two-channel intelligent LED driver and an LED mix that could deliver different CCTs. But Cree had to engineer the control scenario and light-mix recipes to accurately present white light across a CCT range. The company will support CCTs varying from 3000K to 5000K.
"Cree is relentless in its approach to LED innovation, delivering more intelligent illumination for superior, customized lighting experiences without compromise," said Norbert Hiller, Cree executive vice president of lighting. "The new field adjustable CCT feature demonstrates the next generation of controllable lighting by being more flexible to individual needs and preferences, while delivering exceptional efficacy and value."
Indeed, Cree is touting the variable-CCT feature as a way for lighting designers and specifiers to simplify the ordering and installation process on a project. The customer can order one product and customize with tunable lighting after installation as required.