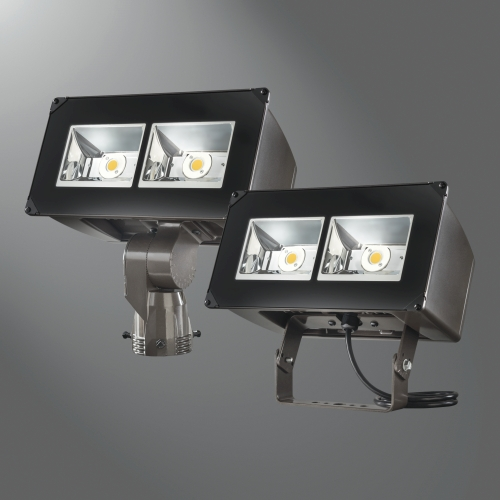 The Night Falcon LED luminaires use chip-on-board LEDs for floodlight applications for building-façade, large-sign, and general-area-lighting applications.
Cooper Lighting, an Eaton company, has announced the Lumark Night Falcon family of LED-based outdoor luminaires for floodlight applications. Cooper intends the solid-state lighting (SSL) family to span the range of replacing 250W to 400W metal halide (MH) fixtures, delivering energy savings and superior beam control and light quality.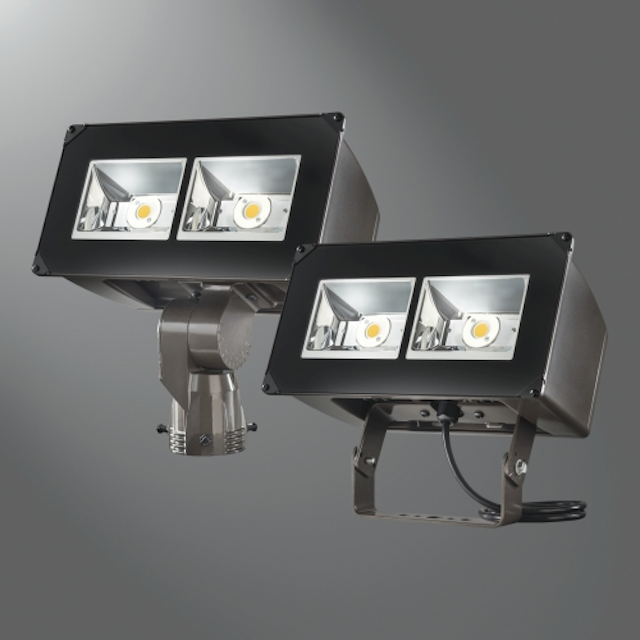 Cooper Lighting replaces up to 400W MH fixtures with Lumark LED floodlights
The new luminaire design is based on chip-on-board (COB) LEDs that can generate a tremendous amount of light from one light-emitting surface. But COB LEDs aren't always conducive to the use of lenses to control the beam.
Generally, COB LEDs have been used with reflector-based optics rather than lenses, although companies such as Khatod have now developed ways to use new materials to enable larger total-internal-reflection (TIR) lenses. Indeed, Khatod won one of our inaugural Sapphire Awards for its silicon COB lens. For information on beam control, see our feature article on the topic.

Cooper, however, stuck with reflector optics in the Night Falcon LED floodlight design. The company said that it delivers uniformity and beam control matched to the application at hand. Specifically, the design is based on the NEMA (National Electrical Manufacturers Association)-specified 6H×6V distribution. Such a design is intended to deliver maximum fixture spacing for projects and that delivers the lowest fixture and installation costs.
"Our Night Falcon product combines high-efficiency optics with superior thermal management and energy efficiency in a cost-effective solution," said Mark Eubanks, president of Eaton's Cooper Lighting Division. "The LED floodlight offers customers greater than 75% in energy and maintenance savings compared to traditional lamp sources."
The Night Falcon is designed for 50,000 hours of operating life delivering L90 or 90% or more of initial light output. The reliability comes from thermal fins that cool the LEDs and the use of a sealed housing for the driver electronics. The product carries an IP66 rating for water and dust ingress.
Cooper also offers optional controls for the Night Hawk family of LED floodlights. For pole-mounted area-lighting applications, a sensor enables autonomous dimming to 50% of maximum output when no activity is detected in the area of the luminaire. Cooper says the implementation meets stringent California Title 24 codes for energy efficiency. Moreover, a NEMA socket enables the addition of a daylight sensor to turn the lights on or off automatically.