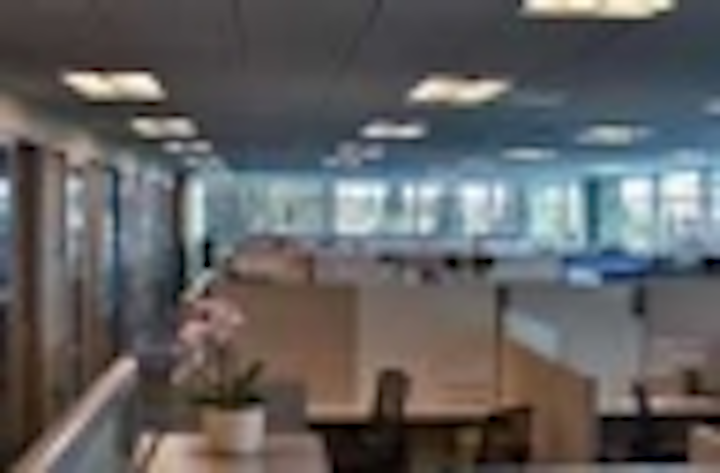 +++++
This article was published in the Spring 2013 issue of IIF Magazine.
View the Table of Contents and download the PDF file of the complete Spring 2013 issue, or view the E-zine version in your browser.
+++++
It seems like something straight out of a science-fiction movie: A person walks down a dark hallway, only to have his path illuminated with each step as light fades away behind him. Only it's not some futuristic technology; rather, it's happening now. Occupancy sensors located in individual fixtures that communicate wirelessly to form an intelligent network represent the latest solution integrating lighting and building automation. Consider it lighting automation for the 21st century, and we will examine the enabling technology, discuss reasons for automation and integration, and consider examples of the trend.
Long gone are the days of having to program lighting to brighten a building and power down at certain times through a clunky system, leaving empty rooms illuminated and burning precious energy. Now each individual fixture -- ideally energy-efficient LED fixtures -- can integrate its own sensor that can detect the faintest motion, or even body heat or light waves, enabling control strategies unthinkable with yesterday's technology.
Integrating lighting and building automation has come a long way, transitioning through four evolutionary stages. At first, there was no automation at all. A person literally flipped a switch and voila! there was light. The first evolution ushered in circuit-level timers that shut down lights after-hours, but did not have the intelligence to sense if anyone occupied the building.
Next came room-level occupancy that offered control in a private office, but did little to manage open floor plans or respond to individual preferences. Zone-based sensors and centralized controls represented the next stage of automation, but were an expensive option because the system required extensive design and commissioning requirements for integration. Moreover, as zones grow larger than a few fixtures, the opportunity for occupancy-based savings diminishes because some workers will likely be present in larger zones.
Automation system scenario
Today's best lighting automation systems rely on fixture-level occupancy sensing managed through software that detects and records data such as ambient light, occupancy, temperature, and energy consumption. Profiles are stored in each fixture and dictate how the fixtures are controlled in various scenarios. Templates are customizable for myriad settings, such as a private office, conference rooms, and bathrooms.
As an example, the Enlighted Series from Silicon Valley-based Enlighted Inc., has fixture-level sensors that auto-calibrate to their environment and form the base setting for the space. The installer can optimize the settings using preconfigured profiles or creating new ones.
Sensors process and analyze conditions in real-time to adjust lighting to appropriate levels through a standard protocol for wireless communication between the sensor and a bridge to the IT Ethernet network. That network bridge supports fixture connection to a server-class appliance that discovers, commissions, and manages the sensors. Similar methodology is available for use with HVAC systems.
The server appliance can be integrated with third-party building automation and demand response systems. The functionality can be deployed as a network appliance or in a virtual-machine environment that uses a standard PC. Management of the server utilizes a graphical user interface running in a Web browser with a data security protocol.
Integrating lighting and building systems
And the scenario goes beyond lighting control. Enlighted's sensor network collects real-time-occupancy, light, temperature and energy-consumption data at every fixture, which can be used for advanced HVAC control and automated demand response, and can be integrated with existing building management systems to maximize energy savings.
The migration to occupancy-level sensors is well underway. Menlo Business Park in California last year retrofitted more than 500,000 ft2 of office space using an Enlighted lighting control system. With this project, sensors in every lighting fixture were mapped to a zone controlled by a given thermostat, producing micro-zonal temperature and occupancy information that enriched the HVAC data set. This level of granularity not only equips the campus to save energy costs, but also provides a property manager with more data on occupancy patterns that can be leveraged for better facility management day-to-day as well as during demand-response events.
For example, if property managers get a message from its utility grid management office to make an energy reduction for a peak demand event, they can respond with high precision. From a central dashboard, light can be controlled over an individual workstation or a pair of lights in a private office.
Efficiency and savings
Efficiency and cost savings are unparalleled with this kind of automation. The system collects real-time data, such as if a specific bulb is burned out or if there is a need to dim a specific fixture or group of fixtures because of daylight harvesting. All of this data can be fixed or adjusted remotely via desktop or laptop.
Combine fixture-level occupancy sensing, wireless technology, and LED bulbs, and the cost savings and impact on the environment are significant -- between 50-70% in energy savings. Moreover, LED technology offers long operating lifetimes, slashing maintenance costs. A typical T-12 fluorescent bulb lasts about 2000 hours, while a similarly sized LED fixture can last 50,000 hours.
With sensors and a network, managers can dial down energy usage to the absolute minimum. With completely adaptive fixtures, conditions can be monitored 24 hours a day, seven days a week, continuously controlling the light based on present conditions.
Menlo Business Park anticipates lighting energy savings between the previously mentioned 50-70% levels annually through the use of Enlighted's lighting control system. It further anticipates additional savings from the automated demand response and integration of occupancy data with the HVAC systems.
Such a retrofit also meshes seamlessly with other utility uses. The Menlo project was part of a major energy efficiency retrofit that included Pacific Gas and Electric Company, EnerNOC, Global Energy Partners, and Progressive Lighting & Energy Solutions. Combined, the project is expected to generate annual energy savings of $400,000 and reduce greenhouse gas emissions by more than 1,000,000 pounds per year. In fact, the project received a Business Environmental Award as the leading "Environmental Project" of 2012 from Acterra, an environmental non-profit serving the Silicon Valley area, proving that collaboration can pay big dividends.
Adopting fixture-level control
Switching from a zone-level sensing and centralized control system to a fixture-level occupancy-sensing system that is managed wirelessly through computer software is quite simple and as easy as replacing a ballast. No pre-engineering design or rewiring is required, and each fixture is recognized by the system within seconds.
Before deciding on which system and manufacturer is best suited to a particular environment, it would be wise to research which state- and federal-level rebates are available, as well as local utility rebates. Most utility programs incentivize per sensor and/or based on the kilowatt-hour (kWh) reduction. At an average kWh reduction of 50%, you can count on a rebate on every project.
The return on investment to install such a system is dependent on several variables, but typically would include the cost of energy, projected efficiency savings, HVAC savings, federal tax deductions, and, of course, utility rebates. Most lighting control projects have paybacks anywhere from under one year to less than three years.
Lighting automation is likely the most cost-efficient of all potential building-automation projects. In addition, automating the lighting system does not typically disrupt other improvements, such as HVAC installation or building operations. Automation not only saves energy costs and better protects the environment, but also can lead to increased employee morale and productivity.
A comprehensive system is customizable to each employee's working space while using varying solutions. For example, an Enlighted upgrade at Interface Global's offices and warehouse in Acworth, GA, harnessed:
Task tuning, determining appropriate peak lighting for employee productivity and safety, which reduced lighting by 18%.
Occupancy detection, accommodating fluctuating occupancy patterns, which reduced energy consumed by 42% in the office and 88% in the warehouse areas.
Daylight harvesting, sensing natural sunlight and dimming artificial lighting, which created an additional nearly 5% energy savings in the office space.
All told, Enlighted's partnership with Interface Global reduced overall lighting costs by about 70% in the office and warehouse areas that in aggregate totaled 35,000 ft2. Interface Global projects a payback period of 18 months.
Light quality
There is a light quality angle to lighting retrofits as well. Aged fluorescent fixtures can suffer up to 25% light degradation over their lifetime, which can lead to uninspiring lighting and a dull working environment. High-efficiency LED bulbs with crystal clear lighting clarity instantly brighten the atmosphere and produces happier employees. Maintenance requirements are also reduced because workers will not be constantly replacing lamps.
Fixture-level occupancy sensors are not the only lighting and building automation solution. Other technology includes high-interval monitoring of energy data to maximize efficiency. Such interfaces collect and analyze a wide swath of data to drill-down on specific issues, such as why a particular space of a building is illuminated when it is not occupied at any given time.
For instance, while the traditional approach uses monthly data to find operational and equipment issues, including lighting, some newer systems crunch 3000 times more data to understand and evaluate building performance. Long gone are flat, one-dimensional displays. Instead, complex demand profiles use 3D (time vs. date vs. kW) pattern recognition and gradient colors to paint a detailed picture that is clear and easily communicated among management.
Such a solution can result in 10-25% savings on energy bills just through occupant awareness and behavioral changes. The future is now for fixture-level occupancy sensing and smart software that creates energy efficiency and represents a solid return on investment.