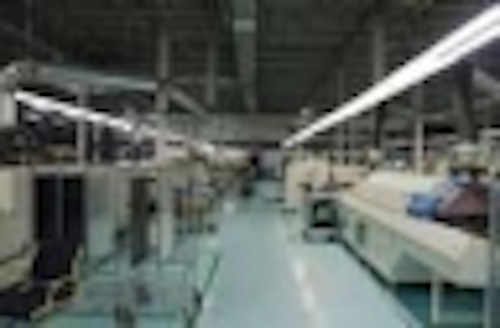 +++++
This article was published in the Spring 2013 issue of IIF Magazine.
View the Table of Contents and download the PDF file of the complete Spring 2013 issue, or view the E-zine version in your browser.
+++++
Mack Technologies, a contract manufacturer, has completed a retrofit of its Westford, MA, facility by installing LED-based lighting in the factory and manufacturing areas and Super T8 fluorescent lighting in office areas. The project was driven by both social responsibility concerns and the potential long-term energy savings — the latter projected at 420,871 kWh annually. Energy-efficient fluorescent and LED fixtures combined with network-based control on a fixture basis enabled the significant reduction.
The project delivered secondary benefits: lighting quality is improved, especially in the factory, and Mack expects to realize substantial maintenance savings. In addition, the cooler-running LED lighting will reduce air conditioning energy usage.
The Mack Technologies facility manufactures products on a contract basis, meaning that the actual work varies by project. In general, the facility includes an area where the company assembles printed circuit boards using a largely automated production line. A second area is dedicated to system-level assembly, or what the company calls box build, where much of the assembly work is done by hand.
The facility was constructed in 1988, and a portion of the former lighting was original. The entire facility was lit with fluorescent fixtures, mostly T8 but also a small percentage of T5. In the 47,000-ft2 factory and 21,000-ft2 warehouse areas, there were previously 739 fixtures — mostly four-lamp fixtures.
Mack commissioned Bluestone Energy Services to assist with the project. Bluestone offers energy-efficiency-engineering and project-development services. Bluestone recommended what would become largely a transition to LED lighting, although the decision on that direction was one Mack approached carefully.
The LED choice
"Concerns about initial cost, the relative youth of the industry, and LED illumination characteristics has made some manufacturers cautious about conversion," said Paul Maher, facilities manager at Mack Technologies. "Our decision to move forward was based on a careful assessment of LED lighting quality and cost, as well as our desire to be a leader in corporate social responsibility."
Ultimately Mack and Bluestone selected Lithonia Lighting (an Acuity Brand) I-Beam LED high-bay fixtures or the factory and warehouse. A total of 220 of the fixtures were installed — a significant reduction from the number of prior fluorescent lighting fixtures.
The I-Beam luminaires can be installed with the LEDs clearly visible so that maximum lumen output is realized. Or the products can be specified with diffusers. Bluestone recommended diffusers because of the relatively low mounting height in the installation. Ceiling heights are 16 or 18 ft throughout the areas. The fluorescent fixtures had been mounted at 8 ft. The new fixtures are installed at 12.5 ft. Still, without diffusers, the LED luminaires could have caused discomfort through glare.
The prior lighting had lacked uniformity; Maher said light levels varied from 20 to 100 fc. The new lighting can deliver 90 fc throughout the facility. Arguably, that's more light than required. That's where light-level control comes in.
Wireless control
Bluestone recommended that Mack install a networked control system. Specifically, the team installed a ZigBee-based wireless network. ZigBee is a mesh-networking standard that has relatively low data rates compared to a computer-centric network such as Wi-Fi. However, ZigBee is optimized for control scenarios, and the mesh approach means that each node in the network can receive and forward data packets. That forwarding capability means that not all of the nodes have to be within direct range of the ZigBee access point that is ultimately connected back to the company's Ethernet IT network.
Bluestone selected a software system from Daintree Networks. Daintree is a proponent of lighting control using open industry standards and was among the first companies to have products that are compatible with the ZigBee Building Automation standard that supports lighting and other building systems.
Daintree's primary product is the ControlScope software platform used to manage facility lighting. However, Daintree also sells some hardware products such as a ZigBee access point/bridge and individual ZigBee modules that are added to a fixture. Long term, lighting manufacturers may offer integral ZigBee support — at least as an option — but today most fixtures must be adapted.
Sean Fuller, VP of business development and marketing, said, "Every fixture has a ZigBee node," enabling control at the individual fixture level. The ControlScope software also supports grouping of fixtures into zones. Fuller said, "We installed the wireless Daintree nodes in the fixtures and did the commissioning."
Programmatic or sensor control
Bluestone did not install occupancy sensors in each fixture. Another article in this issue focuses on sensors in each fixture as the optimal way of achieving energy savings. In actuality, the application and employee activity in a space dictate the best control strategy.
Mack's Maher said that there is little opportunity for using occupancy sensing and control in the manufacturing area. The company operates two shifts, but Maher said that even when a smaller second-shift crew is working, general activity still happens in specific areas of the manufacturing facility that would eliminate dimming or extinguishing fixtures at a more granular level than a zone.
For Mack, the main benefit of the control system is programmatically controlling lights based on predetermined hours of operation and the areas of the facility that are active. Bluestone did install some networked occupancy sensors, separate from the fixtures, in areas such as the warehouse, where occupancy-based zone dimming is a viable option.
Mack and Bluestone are still fine-tuning the control system. The tuning ultimately includes optimizing the programmatic schedule and perhaps lowering light levels to acceptable levels below the maximum setting. Indeed, it's likely that levels below 90 fc are perfectly fine for many areas. For example, lower light levels may be appropriate for the largely automated circuit board assembly line, while areas that require handcraft may need higher levels. Long term, Mack thinks tuning the system can increase building efficiency even more. The company has documented 238,000 kWh savings annually just in the manufacturing and warehouse areas.
Office retrofit
The office retrofit is also contributing significantly to the overall savings of 420,871 kWh. Indeed, a transition to Super T8 lighting can reduce energy significantly. (See our Summer 2012 feature comparing Super T8 and linear-LED fixtures).
When asked about the choice between fluorescent and LED lighting in the office area, Bluestone's Fuller said, "It was a cost-driven decision in the office." Installing new ballasts and lamps in the two-lamp fixtures was simpler and less costly than replacing the fixtures, and the acquisition cost was less as well.
We also asked Fuller about other LED retrofit options such as LED-based tubes or the LED retrofit kits from Lithonia and others than can be installed into existing troffer frames. The lamps still don't match fluorescent lamps in terms of light distribution, and the cost of kits was an issue. "We don't think there are a lot of applications where retrofit kits are a good choice," said Fuller. "It's tough to realize return on investment under five years with the kits."
Overall, the Mack project covered the entire 108,000-ft2 facility and required 3000 person-hours of labor. The project was aided by utility incentives from National Grid and Massachusetts' Mass Saves energy-efficiency initiative. Counting tax credits and that funding, Mack expects to achieve payback in two years.
Meanwhile, the secondary benefits add up. Maher believes the company can realize $5000 to $6000 in maintenance savings annually due to the long life of the new lighting. That also means less disruption of the workforce for lamp changes and other maintenance. Also, the light quality is superior as the before and after photos above clearly reveal.
Bluestone president Ryan Blair said, "Mack Technologies has decreased its energy lighting costs by 40%, met strict industry lighting standards, and improved both manufacturing-space illumination and facilities' appearance — all while earning payback on its financial investments within two years."