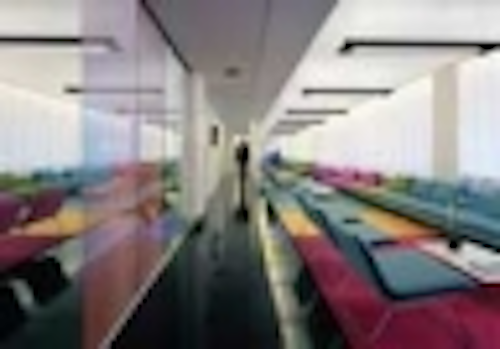 +++++
This article was published in the Spring 2013 issue of IIF Magazine.
View the Table of Contents and download the PDF file of the complete Spring 2013 issue, or view the E-zine version in your browser.
+++++
Lightfair International (LFI) 2013 in Philadelphia lacked any real surprises, but intelligent LED-based products with network- and/or sensor-based control have clearly become mainstream technologies. Moreover, a much broader vendor base demonstrated tunable products — both with adjustable white point and full-color capability. Legacy sources, meanwhile, took a surprising award category in the Lightfair Innovation Awards against stiff LED competition.
While education sessions started on Sunday, the exhibition began on Tuesday, April 23, with the Lightfair Innovation Awards immediately preceding the show floor opening. The awards are never precisely aligned with exhibit floor trends because the Illuminating Engineering Society (IES) and the International Association of Lighting Designers (IALD) that administer the program use categories that dictate, to some extent, the recognized products and technologies.
Still, the second award presented, in the "Conventional, Retrofit and Replacement LED Lamps" category, was quite a surprise. Judges reviewed 44 products in the category, and all but seven were LED-based products ranging from A-lamps to T8 replacements. There were LED products from industry stalwarts including GE Lighting, Osram Sylvania, and Acuity. Osram won the category, however, with the Sylvania Octron 800 family of fluorescent T8 lamps. Moreover, high-pressure sodium and metal-halide lamps took the other two finalist spots in the category.
Long fluorescent life
The judges recognized the Octron lamps because of the 84,000-hour rated life and Sylvania's five-year warranty. The family is also very efficient with standard 32W models and 28W and 25W Supersaver models. Sylvania also supports dimming for additional savings via the Quicktronic electronic ballasts.
LED-based products did very well in the remainder of the luminaire-centric award categories and of course dominated the exhibit floor. In addition, LED-based products or enabling technologies for solid-state lighting (SSL) designs won the four top Innovation Awards.
For the Most Innovative Product of the Year, the judges selected the LED-based BoldPlay linear fixture (Fig. 1) from Philips Ledalite that delivers direct and indirect light. That fixture delivers 106 lm/W efficacy – Philips says this is a 44% improvement over direct/indirect fluorescent products. Philips Lighting also won with the Hue color-changing A-lamp, recognized with a Judges' Citation Award.
The other top awards recognized enabling technologies. Cooledge Lighting won the Design Excellence Award for its flexible LED light sheet technology that luminaire partners will integrate into fixtures. At LFI, Cooledge also announced a partnership with GE Lighting that will begin with GE developing a custom driver for the light sheets. Dow Corning won the Technical Innovation Award for its moldable silicones that can serve in optical, thermal, and sealant roles in LED-based product designs.
Tunable lighting
On the exhibit floor, tunable products were prevalent both in shipping products and concept products demonstrated behind closed doors. The tunable segment includes both white products and those that use red, green, and blue (RGB) LEDs, and even more colors in some cases, to generate light of any color.
Tunable white products serve two primary uses. More and more dimmable LED products feature a dim-to-warm capability that more closely mimics the way incandescent and halogen sources dim, with the color temperature getting lower/warmer as the light level drops. That usage is purely for ambiance.
The second usage model has a life-science angle because cooler light in the morning has been shown to make us more alert, whereas warmer light at night is more soothing. Much research still needs to be done on our circadian rhythms and the impact of light, but tunable lighting is now widely thought to have benefits to our wellbeing. Generally, products that deliver tunable-white capabilities mix mostly white LEDs with a few amber or red LEDs.
Acuity Brands demonstrated both white-point and color tuning in its private demo room, and perhaps the most compelling product at LFI – albeit a product that's likely a year away.
RGB and white
The Acuity Aera is a unique concept that was presented in a mock office setting (Fig. 2). The luminaires resembled a series of square windows to the outside that were recessed into the wall near the ceiling. Those windows delivered both white task lighting on a desk and tunable-color ambient lighting using RGB LEDs.
White LEDs, hidden in the bottom of the frame, point upwards at an angle to provide indirect lighting reflected off the ceiling. Acuity said that the technique could deliver 30 fc on a desk surface located perhaps 6 ft from the wall. The RGB LEDs were implemented, unseen, in the top and bottom of the window frame. Those LEDs were shone into a planar light guide that presented light very much like a window to the outside world would.
The white and RGB lighting is functionally separate but complementary in terms of the experience. Acuity demonstrated scenes such as sunrises and sunsets in the windows simultaneously with the indirect white light. Having RGB LEDs above and below allows for color gradients across the surface of the pane.
A handheld tablet wirelessly controlled the compelling scene setting, with a new technology called Axion that is due to market in a few months. The company also demonstrated its tunable-white Gotham Evo downlights, and Mark Architectural Lighting VEIL recessed planar ceiling lights — all controlled via Axion.
Planar light guide fixtures
While Acuity's Aera did use a light guide, we also witnessed commercial products based on much larger planar surfaces that are finally available after several years of conceptual demonstrations. For example, both GE Lighting and Cooper Lighting showed ready-for-market products that are based on light-guide technology that both companies licensed from Rambus.
The GE Lumination EL Series has a unique design with the planar guide positioned vertically from a suspended housing that conceals the LEDs that light the guide along the upper edge. When off, the guide is largely transparent. When lit, the blade provides a uniform diffuse light that GE says is perfect for applications such as retail. Its light-guide technology is called Intrinsx.
Cooper said that it spent the last year optimizing what it calls WaveStream technology and getting the guides into production. The Metalux Encounter and SkyRidge (Fig. 3) luminaires are due on the market within two months and both are recessed troffers with planar light surfaces targeted as alternatives to fluorescent lighting. Cooper said that the products will be priced in the range of fluorescent fixtures, but believes that the luminaires are of the quality to warrant architectural specification.
Still, the more compelling Cooper products are coming shortly. The company showed a Corelight suspended luminaire that used planar blades with a minimum bezel that concealed the LED sources. When powered on, the planar light guides deliver uniform direct/indirect diffuse light. When off, you can see right through the planar surface as if it were glass.
Networks and controls
The other major trend at Lightfair was the prevalence of a network or interface, wireless in many cases, to allow for remote control of lighting products. Alas, the breadth of controllable products across the floor used a variety of different interconnects, some of which are proprietary. We are a long way from de facto adoption of a ubiquitous lighting network.
Osram Sylvania, for example, demonstrated wireless-enabled Ultra iQ BR lamps and downlights that use the ZigBee Light Link standard. That's the same technology used in the Philips Hue family, and Philips announced a PAR version of Hue at the show. ZigBee Light Link is the closest thing we have to a residential standard, but broad support is still lacking.
Samsung announced a wireless retrofit lamp family that uses the ZigBee Home Automation standard that requires a centralized controller. Those products are due in Q3. Hubbell and Lighting Science Group, meanwhile, displayed products with integrated Bluetooth, simple to use since the technology is integrated in our mobile devices. However, realistically, it is only useful for commissioning devices as opposed to providing persistent control links.
When it comes to building-level networks, the extent of offerings escalates. Acuity alone offers multiple wired and wireless networks. Clearly, the market needs to mature. The good news is that executives from Philips, Osram, and GE Lighting all pledged support for networks based on open standards at the show as opposed to proprietary technology. Watch for the June issue of LEDs Magazine for more detailed coverage of the networking area.