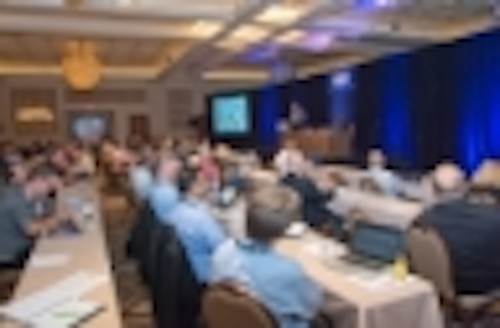 View the e-zine edition and download PDFs from the e-zine platform
.
+++ Cover +++
Basilica's exterior lighting will significantly reduce energy and maintenance costs. (Photography: Lumenpulse)

+++ Features +++
CONFERENCEThe LED Show speakers call for better design in SSL transition
Experts presenting during the two-day conference largely agree that LED technology has arrived, although poor designs, the supply chain, and even uneducated customers still hamper a quicker transition to solid-state lighting.
Maury Wright
SOURCESLED lighting: SSL is not just for accents anymore
New non-glare, white-light LED fixtures offer useful lighting and substantial energy savings, and can now cost-effectively serve in most indoor and outdoor applications.
Randy Borden, founder and CEO of Borden Lighting
EXHIBITSThe LED Show: Retrofit lamps, outdoor SSL, and control
LED retrofit lamps, adaptive controls, enabling technologies, and luminaires leave an impression at The LED Show.
Maury Wright
SUSTAINABILITYDaylight autonomy welcomes back the sun
Renowned American architect Louis Kahn said, "A room is not a room without natural light," and today's lighting designers and architects can leverage technology to make optimal use of daylight.
Brent Protzman, lead architectural engineer at Lutron Electronics






+++ Columns/departments +++
COMMENTARY
Dim to warm is the final piece of the LED puzzle
LIGHTBEAT
LED façade lighting highlights Gothic Revival architecture
Efficient LEDs move to high-CRI target