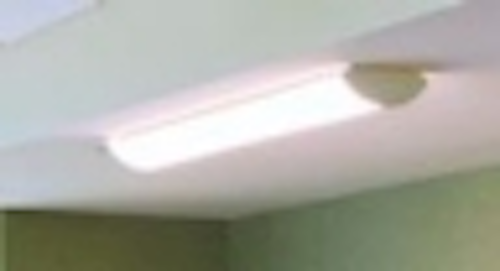 On May 10 at Lightfair, Jim Brodrick, solid-state lighting program manager of the US Department of Energy (DOE), congratulated the 27 companies who won the 2012 Indoor Next Generation Luminaires (NGL) competition. Fifty LED luminaires were Recognized by the judging panel as being worthy of specification, meaning they would recommend these products to other specifiers. Three LED luminaires received the Best in Class distinction for clearly exhibiting superior performance overall and standing out in their respective categories.
The DOE, the Illumination Engineering Society of North America (IESNA) and the International Association of Lighting Designers (IALD) jointly manage the NGL competition, which promotes excellence in energy-efficient LED commercial lighting. In 2012, the NGL competition was split into separate indoor and outdoor competitions with separate judging panels. The judges of the indoor competition assessed lighting performance (color, illuminance, light distribution, and glare) appearance, serviceability, efficacy, value, and dimming. All luminaires have been tested at the Intelligent Lighting Creations (ILC) facility outside Chicago, IL. The performance values shown here are the results of these tests. Full details and winners can be found at: www.ngldc.org/12/indoor/winners.stm.
Best in Class
ST Series by Lithonia Lighting
The ST Series LED utility/general purpose luminaire features an innovative design that complements other LED recessed volumetric architectural products from Acuity Brands. The optical system uses a crescent-shaped linear faceted refractor system to obscure and integrate individual LED images. Embedded controls can be used to monitor system performance. Judges were impressed by the luminaire's high efficacy, value and serviceability. Light output is 4934 lm at 50W (99 lm/W) with a CCT of 3567K and CRI of 82.
MBW2 LED Track by Intense Lighting
Utilizing two high-power LED arrays, the MBW2 LED accent track lamp provides a uniform, rectangular light pattern. It is designed to illuminate retail displays and merchandise racks. CCT options include 2700K, 3000K, 3500K and 4000K with a CRI of 82 or CRI of 92 with a CCT of 2700K or 3000K for special applications. Light output is 2538 lm at 55W (47 lm/W) with a CCT of 3098K and CRI of 82.
H-Series LED by Albeo Technologies Inc.
The modular design of the H-Series high-bay luminaire allows a wide range of lumen packages. Over 400-in2 of surface area per LED module provides robust heat sinking and ensures a very bright long-lasting LED high-bay for industrial, warehouse or cold storage applications. The electrical housing and optics are field serviceable. The user can choose from aisle, narrow or wide optical distributions. The judges were impressed by the excellent aisle illumination, optical design, glare control and high efficacy. Light output is 20,722 lm at 220W (94 lm/W) with a CCT of 4852K and CRI of 74.
Recognized
Horizon task lamp by Humanscale
The Horizon lamp uses a series of high-intensity LEDs surrounding several layers of polycarbonate and optical films to create a wide footprint of glare-free light. The lamp can be adjusted at the base or luminaire level. There is no exposed wiring on the luminaire. Light output is 364 lm using 8.4W (43 lm/W efficacy) with a CRI of 81 and CCT of 2972K.
RT Series by Lithonia Lighting
The RT Series recessed modular fixture combines LED lighting with a high-performance optical design. Integrated controls and digital addressability enables scheduling and control of light level at the luminaire, room, or building levels. Light output is 4600 lm using 47W of power (98 lm/W) with a CCT of 3567K and CRI of 82.
Pluris ICL-LED 1600 by Intense Lighting
The ICL-LED1600 is a recessed multiple lamp luminaire with 1-, 2-, 3-, or 4-lamp configurations. The accent luminaires can be provided with trim-less options. Features include good glare control, color rendering and beam uniformity. Light output is 1459 lm at 27W (55 lm/W) with a CCT of 3089K and CRI of 81.
RLC 22 by Osram
The round aperture of the RLC22 recessed downlight offers an alternative to the checkerboard ceiling pattern created by some linear fluorescent fixtures. Designed as an LED 2×2-ft luminaire for office, retail, education, and healthcare environments, the RLC22 fixture produces 3110 lm at 39W of power (80 lm/W efficacy) with a CCT 3250 and CRI of 83.
Hornet by Amerlux
The miniature, dimmable, Hornet accent luminaire is mountable on a variety of track systems, including low voltage, with a limited 10-year warranty. The luminaire features a smooth beam spread and is offered with a range of accessories. Light output is 822 lm at 15.5 W (53 lm/W) with a CCT of 3107K and CRI of 82.
LB86 Retail Low Bay by MarulaLED
The LB86 Series of Low-Bay luminaires is available in 45, 68 and 86 LED cluster versions, allowing a range of luminous flux outputs at various input powers. The luminaire uses an active cooling fan to enable high lumen outputs at various color temperatures. Options include five color temperatures and three beam angles spreads. Light output is 9242 lm at 188W (49 lm/W) with a CCT of 4267K and CRI of 86.
Bare by Eureka
The Bare decorative luminaire is a handmade glass pendant with frosted lower region that provides a discrete amount of indirect light. Features include high light output and glare control. Light output is 616 lm at 10.4W (59 lm/W) with a CCT of 3881K and CRI of 84.
Generation 3 by Juno Lighting Group
The Generation 3, 6-in IC LED recessed downlight uses a high-lumen-output LED array, which is shielded from direct viewing. Four optics are available: wide-, medium-, or narrow-flood, and spot. Features included good value and high efficacy. The judges recognized both the 600- and 900-lm versions of this product. Light output of the latter is 865 lm at 15W (57 lm/W) at a CCT of 3034K and CRI of 80.
M60 LED by Selux
The M60 LED linear pendent luminaire features a streamlined design to provide continuous lines of light. The integral driver is available in different housings, with multiple mounting and dimming options. Light output is 2453 lm at 33W (74 lm/W) at a CCT of 3500K and CRI of 81.
Glimpse by Lighting Science Group
The Glimpse luminaire is designed to mirror the form of a recessed downlight in application. The luminaire can be retrofit into 4, 5 or 6-in recessed downlights by replacing the existing Edison base lamp and trim, or it can be surface mounted to a J-Box as a luminaire. Lumen output is 466 lm at 9.5W (49 lm/W) at a CCT of 2942K and CRI of 80.