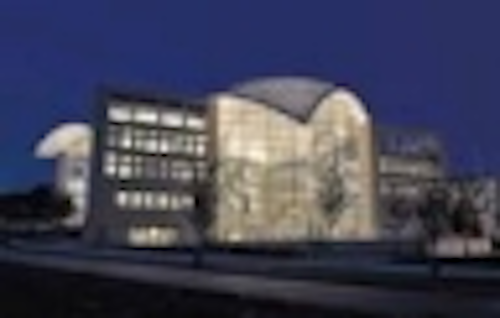 On May 8, the evening prior to the opening of Lightifair International, GE held a ceremony at the Wynn Hotel to celebrate the winners of its 29th Edison Awards competition. Mary Beth Gotti, manager of GE Lighting Institute and co-chairperson of the Edison Awards, presented 12 awards that evening, including the top honor, the 2011 GE Edison Award, to Lam Partners for the outstanding lighting design at the United States Institute of Peace in Washington, DC.
The GE Edison Award was created in 1984 to recognize excellence and quality in professional lighting designs, specifically those that employ significant use of GE light sources. The 2011 Awards reflect projects that were completed in the calendar year 2011. Gotti noted that the evaluation criteria have remained virtually unchanged in 29 years and these include functional excellence; architectural compatibility; effective use of state-of-the-art lighting products and techniques; appropriate color, form and texture revelation; energy effectiveness; and cost effectiveness.
Projects that score the highest number of points qualify for Awards of Merit and Awards of Excellence. The judging panel, which is comprised of lighting consultants and designers, may also choose to award outstanding designs in the areas of environmental design or residential design, as they did this year. The single winner of the Edison Award is selected from among the Awards of Excellence winners. A video of the 2011 winning installations is available at www.youtube.com/watch?v=DLoa27eWV80.
Common design threads
If there are common design themes among the award winners, they likely include clever means of concealing light sources, increasingly widespread use of daylighting as a primary source, and the use of controls to minimize energy usage. In all projects (Table 1), designers selected the illumination sources based on their ability to best accentuate the architectural details of the specific project. Speaking of the lighting design for the United States Institute of Peace, Glenn Heinmiller, founder of Lam Partners simply stated, "the key to the design was to integrate the lighting with the architecture."
Among the projects, we also noticed a predominant use of T5 fluorescent lamps for general illumination, which, because of their small size (mini bi-pin base and 0.625-in. bulb diameter), can be used in low-profile fixtures, such as those used in cove lighting. Halogen MR-16 lamps were used in up-lighting applications or to highlight specific surfaces or artwork. There was very selective use of LED-based lamps and luminaires — typically in applications where a specific light quality was required — as was the case with the ceiling backlights in the Museum of the Bavarian Kings or the art room in Likins and Árbol de la Vida Residence Halls.
Lighting controls and networking, often tied to daylight sensors, were also employed in several of the installations. In the Confidential Trading Company, Schuler Shook used a digitally addressable control system (DALI) to allow reconfiguration by zone as needed. Lam Partners employed daylight sensing, occupancy sensing, scheduling and local preset scene control in the United States Institute of Peace. In the Likins and Árbol de la Vida Residence Halls daylight sensing was employed in the entire building and motion sensors in 600 bedrooms reduce lighting and HVAC energy use when rooms are unoccupied.
The following provides more detail by award winner.
Edison Award
The United States Institute of Peace is situated in the northwest corner of the National Mall overlooking the Lincoln Memorial, and is now the first permanent home for this independent organization that was formed in 1984 by the US Congress to help resolve international disputes. The 150,000 ft2 building was designed by Safdie Architects. The entire building cost $110 million, and it includes offices, an international conference center, and a public exhibition and event space. Perhaps the building's most prominent architectural feature, the three wing-shaped roof segments, also posed the greatest challenge to the lighting designers (Fig. 1).
Lam Partners' Heinmiller, Paul Zaferiou and Dan Weissman needed to select light sources that would create a soft glow inside and outside the building while not appearing visible. Each roof is made up of an outer diffusing glass and inner white membrane with the building's structure in between (Fig. 2). The roofs are lit by forward-throw cove fixtures with GE 54W T5 3000K fluorescent lamps mounted in the tops of the walls. Strings of adjustable fixtures with GE 37W Precise IR MR16 halogen lamps light the region above the uppermost windows, while 39W ConstantColor ceramic metal halide (CMH) PAR-20 lamps were employed to add supplemental down-lighting. The 37W Precise IR MR16s replace standard 40/50W halogen MR16 bulbs and feature low-voltage operation (12VDC), UV filter, color temperature of 2950K, 2300 cd center-beam intensity at 35° beam angle and 5000-hr rated life. The CMH PAR-20s are 10° spotlights that provide 22,000 cd of center-beam intensity at 3000K color temperature and CRI of 86. Rated life is 10,000 hours.
GE T5 fluorescent lamps were used throughout the building, typically with the fixtures installed such that they would be fully concealed or barely noticeable. For instance, in the offices, GE 21W T5 3000K fluorescent lamps have been integrated in the curving base of the clerestories to provide indirect light. This light is only used when daylighting in the perimeter offices and corridors is insufficient. The project has been LEED Gold certified.
In addition to winning the 2011 GE Edison Award, Lam Partners also won the 2012 IALD Award of Excellence and the 2012 IES Illumination Award of Merit for lighting design in the United States Institute of Peace.
Awards of Excellence
Andreas Schultz, Malte Simon and Thomas Möritz, lighting designers from Licht Kunst Licht AG in Bonn, Germany, worked together with architecture firm Staab Architekten of Berlin on a major renovation of the Museum of Bavarian Kings, which is located in Germany's picturesque Alpine region in Hohenschwangau, Germany. The museum houses the permanent exhibition of the history of the Wittelsbach dynasty and their Bavarian Kings.
At the recent Light+Building exhibition, Schultz spoke of the necessity to use high-end light sources to create a high level of lighting atmosphere. In the large vaulted ceiling of the Museum, the designers chose to use custom recessed LED modules to backlight the 866 translucent ceiling panels in the main exhibit area. To complement the ambient panel lighting, adjustable spotlights containing GE 60W halogen T4 lamps were used to further accentuate the exhibit. The ceiling's luminous pattern is carried through to the adjacent Panorama hall with its lakeside view using mirrored stainless steel elements.
Information panels in the large exhibit space are backlit with GE Tetra PowerGrid LED lighting systems. The Tetra PowerGrid system consists of scalable, rectangular modules containing nine LEDs each that can be linked together or shortened as needed to provide an LED backlighting alternative to fluorescent sources. The thin (3 in.) modules occupy very little space. Rated life of the LED system is 50,000 hours with a 5-year warranty and the low-voltage system (24 VDC) is dimmable.
Cornell's new Architecture, Art and Planning building, Milstein Hall, is a multistoried building, and the lighting design, by Suzan Tillotson and Christopher Cheap of Tillotson Design Associates in New York, NY, responds to the function of each floor. The basement level features bright fluorescent lighting, warm light is used on the pedestrian plaza (Fig. 4) and bright light is also used on the upper studio. In the pedestrian plaza, GE 54W T5 3500K fluorescent tubes are cast in the concrete ceiling, using custom frosted acrylic lamp sleeves to control glare. A lighting-control system provides automatic dimming when pedestrians are not detected as well as adjustment of light levels for different occasions. The upper studio level uses natural light from 41 skylights and three views of full-height glazing. On this level, GE 32W T8 3500K fluorescent lamps are used in daylight-controlled pendent luminaires that are perforated at the top to allow up-lighting of the ceiling.
In addition to winning this Award of Excellence from GE for Milstein Hall, Tillotson Design Associates won the 2012 IES Lumen Citation for lighting that specifically supports unique architecture.
Awards of Merit
Confidential trading company is a 75,000-ft2 office complex with a non-traditional office design. Tapered floor-to-ceiling columns end in a ceiling cutout that houses GE T5 4100K fluorescent lamps as back-lighting. T5 3500K fluorescent lamps provide indirect lighting between upper and lower ceilings.
The Chicago Daley Library, with its concrete interior, was updated by Schuler Shook with a lighting scheme that used only six lamp types to simplify maintenance. A combination of T5 fluorescent and CMH lamps were used to reduce the energy usage by 50% from previous levels.
The Joe and Rika Mansueto Library has an all-glass dome-shaped ceiling that makes up the only above-ground portion of the building. A 57% frit in the glass is used to prevent glare and heat gain. Only three types of luminaires were used on the project: GE 150W and 70W ConstantColor CMH lamps, up-lights with GE 26W Biax 3500K compact-fluorescent lamps hidden on the ventilation kiosks and task lights with GE 35W T5 3000K fluorescent lamps that are integrated in the work stations. The domed reading room makes maximum use of daylight while at the lower levels, 3.5 million books are protected in dark vaults.
"Passport to discovery" was the theme of the lighting for the Amplatz Children's Hospital, which focuses on fun for the patients. In the elevator lobbies and corridors, colorful panels are backlit with 32W T8 lamps. T5 lamps were used for general illumination, while the lobby was lit with a combination of daylight and recessed downlights that used GE 100W ConstantColor CMH ED17 lamps.
GE's own Lighting Experience Center exhibits its latest lighting products but the Center was designed to provoke an emotional response to lighting. A combination of Tetra Contour and Infusion LED systems light blue bubble-like luminaires. A more structured area of the building features retail, urban living and interactive lighting coves.
Award for Residential Design
The Toro Canyon Residence is a 7500-ft2 home in a 10-acre canyon that overlooks the Santa Barbara coastline. Highlights of the installation by Ann Kale Associates included minimalistic lighting that highlights the rich materials of construction. In the kitchen area, accent lights with GE 20W and 37W Precise IR MR16 lamps highlight work surfaces, art, furnishings and the dining table. In a glass foyer, living room and pool area, IR MR16 lamps were used in uplighting fixtures. This installation was the only award winner to use high-output T5 fluorescent lamps (3500K, CRI of 85), which illuminate the wood ceiling. High-output lamps can produce nearly twice the light output of a standard T5 or T8 lamp of the same length (5000 lm initially for 54W version) and offer high efficacy (90 lm/W) while being rated for 30,000 hours of life.
Award for Environmental Design
Daylight is the principle light source for the Likins and Árbol de la Vida Residence Halls, which is comprised of eight interlocking buildings. The goal for energy usage was 0.63 W/ft2 and intelligent switching, facilitated by motion sensors and daylight sensing, significantly reduced energy usage. Linear lighting systems incorporated GE 28W T5 fluorescent lamps. The outdoor lighting area uses 22% fewer lumens that were required by local guidelines. There is no façade lighting other than the glow from windows.
Special Citations
The key design concept behind the Louisville Second Street Transportation Project was the conversion of the bridge's underpass to an outdoor usable seating area, sidewalk and plaza. Primarily T5 fluorescent, but also LED and CMH lamps were used. The bridge underside and wash lighting was provided by 54W GE Ecolux Starcoat T5 tubes, which incorporated colored glass to create crimson and gold hues. Along the edge of the bridge, flashing LED luminaires count down hours from sunsut to midnight. Street and bridge column lighting were provided by GE Protected ConstantColor PulseArc CMH ED17 and ConstantColor PulseArc CMP T6 lamps. The lighting budget was $500,000.
Dating back to 1937, the Odgen High School Auditorium was restored in 2011 with the goal of maintaining the original deco design and historical fixtures. GE 575W halogen stage and studio lighting replaced the original incandescent lighting, while GE 32W T8 high-lumen lamps were added behind glass panels with control lockouts to force the use of fluorescents except during performances. Never-maintained aisle lights were fitted with LED sources. Original glass reflector luminaires were restored with PS25 lamps that operate on dimmers.