Now in its third year, the LEDs Magazine Sapphire Awards program recognizes advances in enabling technologies and lighting products focused on the unique aspects of SSL sources, and this year's finalists deliver innovative features, sleek form, and evolved performance across general lighting and vertical applications such as horticulture, Carrie Meadows reports.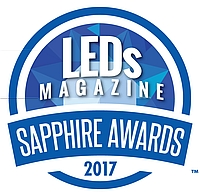 Sapphire Awards finalists shine in innovative form and applicationsThe third annual LEDs Magazine Sapphire Awards program received more than 100 submissions from 60 companies seeking recognition in 16 product categories as well as nominations for the Illumineer of the Year, a person or team responsible for the development of a significant, LED-centric technology innovation or solid-state lighting (SSL) product during the course of the year.
Interested in articles & announcements on LED & SSL design?
"From LEDs and other enabling technologies to general lighting products and niche applications such as horticultural lighting, the finalists have delivered outstanding solid-state lighting products," said Maury Wright, chief editor of LEDs Magazine. "Congratulations to all of the companies recognized as Sapphire finalists for outstanding work in truly leveraging the unique benefits of LED sources."
All of the finalists meet the exacting standards of our panel of noted professionals, designers, and lighting industry leaders. Vendors included written product descriptions, spec sheets, images, and other supporting information. Criteria for the judging process included the innovation in leveraging the unique benefits of LEDs along with ease of use, efficiency, reliability, and contribution to profitability.
The judges were assigned categories in which there could be no conflicts of interest. They were tasked with determining whether the product or technology would be suitable for commercial application, and for sure those applications of interest have evolved. For a recap of the 2016 categories and winners, visit http://bit.ly/256t5va.
Indeed, this year's shortlist of standouts tracks with current trends in the SSL industry. Notably, we broke out linear T8 lamps into a separate category as commercial retrofits have spurred demand for LED tubes and they have demonstrated increases in efficacy. And the increased uptake of LED-based horticultural lighting across growers and next-generation farming operations is reflected in a new category, with LEDs and fixtures designed to utilize spectra conducive to plant growth.
Smart and connected lighting is represented by products that support commercial smart lighting in both indoor and outdoor environments, now that residential smart lamps have become more mainstream. What's most illuminating about the smart lighting finalists is that they are not luminaire or lamp products — rather, they represent advances in intelligent components, software, and systems that deliver granular control, data collection, and monitoring to lighting applications.
The winners will be announced on March 1 during the 2017 Sapphire Awards Gala dinner as the featured event of Strategies in Light, co-located with The LED Show and Lightspace California.
The Gala will be held at the City National Grove of Anaheim, a venue that mixes throwback glamour with modern amenities, for an evening of celebration and acknowledgment of the efforts of the LED and lighting industry to maintain the exciting momentum of the past few years. Indeed, the very foundation of the Sapphire Awards program is to recognize and reward the passion and forward thinking that inspires professionals across all sectors of the SSL market to continue to innovate and rethink function, design, and future potential.
Sapphire Awards Gala entertainment builds excitement
While attendees enjoy sparkling conversation, the Doug Taylor Trio Band will delight with their smooth jazz stylings. Maury Wright will be joined onstage by a comedy MC as host, and the Bella Electric Strings quartet will rock the venue and get the crowd ready for the awards ceremony. Photos will be taken on our Sapphire carpet. Spread the word on social media (#SapphireAwards)! Join us for a memorable evening by visiting http://bit.ly/2iHy7Lv.

SAPPHIRE AWARDS FINALISTS
Illumineer of the Year Category
Fred Maxik, founder and chief technology officer, Lighting Science
Dr. Shuji Nakamura and Dr. James Raring, co-founders; Dr. Eric Goutain, product engineering director; Troy Trottier, material science consultant; Dr. Paul Rudy, SVP of business development, SoraaLaser
Alexander Wilm, key expert SSL lighting, Osram Opto Semiconductors
Commercial-Quality SSL Lamp Design Category
Green Creative / MR16 8.5W High CRI (8.5MR16DIM) lamp
Lighting Science / Durabulb (A19) lamp
Horticultural Lighting Category
Heliospectra / Heliospectra LX601C light fixture
Lumileds / Luxeon SunPlus Series LEDs for Horticulture
P.L. Light Systems / HortiLED INTER fixture
P.L. Light Systems / HortiLED TOP fixture
ICs and Electronic Components for SSL Category
EnOcean Inc. / LED Relay Zone Controller
Infineon Technologies Americas / CDM10VXTSA1 0-10V dimming interface IC
Linear Technology / LT3965 LED bypass switching device
Indoor Ambient, Track, and Accent SSL Luminaire Design Category
Amerlux, LLC / Cynch LED accent luminaire
Architectural Lighting Works / Hylytr grazing luminaire
Axis Lighting / Sculpt accent lights
DMF Lighting / OneFrame – DRDHNJD recessed LED downlight
No. Eight Lighting / 400 Series LED Spotlight
Indoor Troffer, Linear, and Recessed SSL Luminaire Design Category
Acuity Brands / Rubik ceiling luminaires
Acuity Brands / Olessence OLED- and LED-based luminaire
Fluxwerx / Fold linear pendant luminaire
Vode Lighting / ZipTwo LED 707 linear lighting
Vode Lighting / 707-Z9 linear cove Lighting
Industrial SSL Luminaire Design Category
Cree / Cree HXB Series LED high-bay luminaire
Hubbell Lighting / Triple H LED high bay/low bay
Hubbell Lighting / Dual-Lite EV4R LED emergency light
LumenOptix Inc / Stratos high-bay rack lighter
Orion Energy Systems / ISON Class LED high bay
LED Drivers Category
eldoLED B.V. / LightShape technology on DUALdrive LED drivers
Fulham / Outdoor wireless programmable drivers
Osram Americas / Optotronic 347V linear indoor programmable LED driver
Samsung Electronics LED / Smart Lighting Module SLM-D
Linear T8 SSL Lamp Design Category
Energy Focus, Inc / Redcap battery-integrated emergency TLED
Energy Focus, Inc / 500D network-ready TLED
Lighting Science / LBar Linear LED tube
Modular LED Light Engines Category
ERG Lighting / Driverless LED light modules
LED Engin / LuxiTune tunable white and warm dim module
Plessey Semiconductors Ltd / PLWS3000 Series Orion beam-forming module
Outdoor Landscape and Accent SSL Luminaire Design Category
Elemental LED / Hydrolume 24V LED striplight
Elemental LED / Fluid View 12V LED tape light amber
Hubbell Lighting / Kim Lighting Lightvault 8 RGBW luminaire
Outdoor Street and Area SSL Luminaire Design Category
Amerlux / Lunetta
Cree / RSW LED street light
Eaton / Invue Arbor LED collection
Eaton / Ephesus All Field LED luminaire
Hubbell Lighting / Architectural Area Lighting KicK bollard
Packaged LEDs and OLEDs Category
Bridgelux / Vero Series SE array
LED Engin / LZP multi-wavelength horticulture LED
Lumileds / Luxeon CoB with FreshFocus technology
Osram Opto Semiconductors / Duris P 10 platform of LEDs
Samsung Electronics LED / LM561C S6 LED
Smart and Connected SSL Technologies Category
Echelon / Lumewave PL-RF gateway
Lumenetix / araya5 logic module with linear and round tunable color LED arrays
Lutron Electronics / Quantum Vue 3.2 software
Phoenix Contact USA / Tunnel Solution
Enlighted / Enlighted Smart Sensors
Specialty SSL Design Category
Lighting Science / Genesis DynaSpectrum
Phoenix Contact USA / Wind Tower Lighting System
Tempo / HLS aisle lighting system
Unilux / LED UV inspection strobes
SSL Enabling Technologies Category
Architectural Lighting Works / Double Slot Optics
Fraen Corporation / Fraen color-mixing optical zoom system
Khatod Optoelectronic / SIR — Silicone TIR lenses for COB LEDs
Venntis Technologies / Precision scattering optic
Tools and Tests in SSL Design Category
Ophir Photonics / FluxGage
United Power Research Technology / UPRtek MK350N Plus spectrometer
Vektrex / SpikeSafe performance current sources series