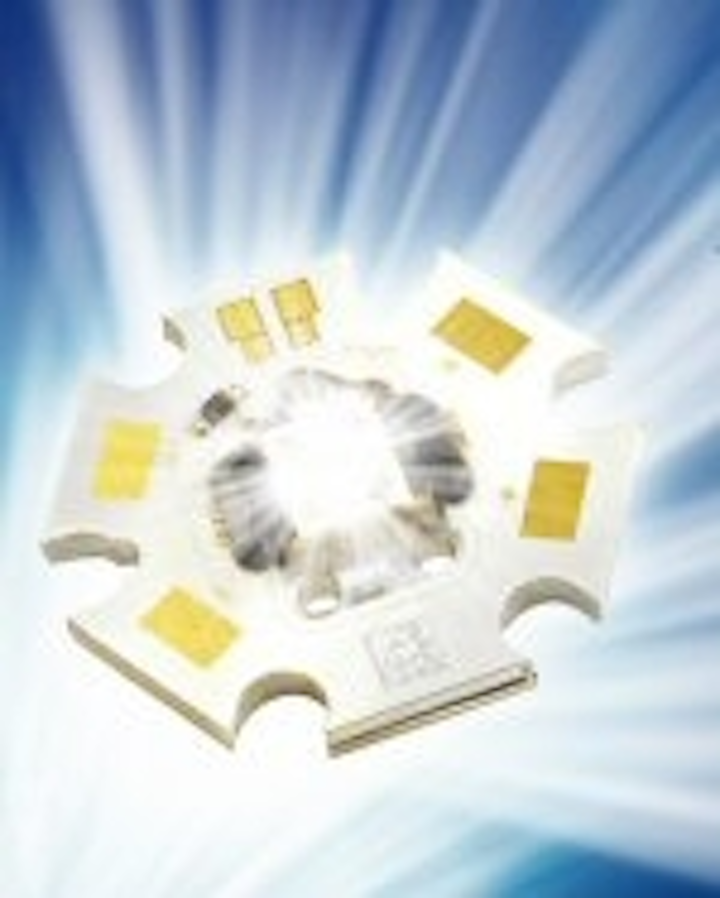 Osram Opto Semiconductors has demonstrated an output of more than 1000 lumens from a cold white Ostar Lighting LED, exceeding the performance of a 50 W halogen lamp.
The high-flux Ostar LED contains six 1 mm2 power LED chips, and the high chip-packing density results in very high luminance.
Samples of the new Ostar Lighting LED will be produced in the next three months, and a market launch is planned for summer 2007.
Osram Opto Semiconductors told LEDs Magazine that with a drive current of around 1000 mA, the new device produced around 1100 lm with an efficacy of around 50 lm/W. The device has a lens, and the input power was around 22 W.
At 700 mA and 350 mA, the efficacy was 65 lm/W and 75 lm/W, respectively.
The current Ostar Lighting LED produces 420 lumens with a lens and 300 lumens without a lens, in each case at an operating current of 700 mA and power of 15W.
The high luminous flux of the recently-announced LED is the result of optimizing the chip, the package and the epitaxial (layer growth) process. Based on well established components, these developments can be rapidly transferred to the production stage, says Osram.
In practice, this means that a single Ostar Lighting LED with a 38 degree reflector can illuminate a desk with more than 500 lux from a height of two meters.
The new Ostar Lighting LED was developed as part of the BMBF NanoLux program.