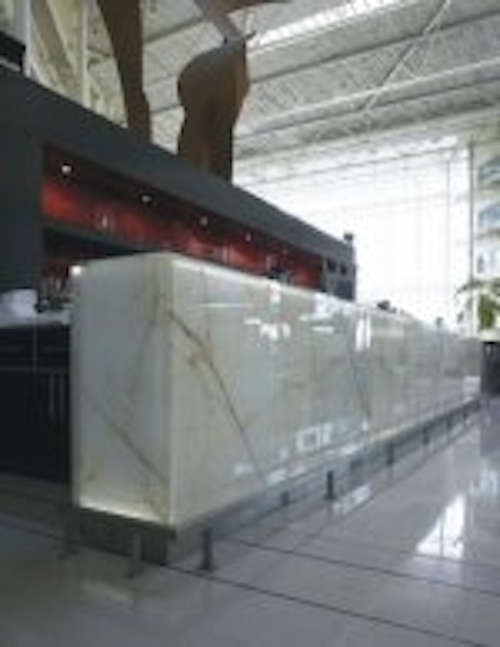 Lighting designers Chaos Design Consultants have installed an illuminated bar in the atrium of the Hilton Hotel, Heathrow.
Dancer's Bar consists of 9 panels of a special product consisting of a thin veneer of real natural stone, which is bonded on to glass, the end result being beautiful translucent panels.
In order to produce the "floating" effect required by the client, Chaos installed panels of Prismex behind the veneer of natural stone and then edgelit each panel with a total of 450 white LEDs.
Jonty Savile, managing director of Chaos, said, "Prismex is an ultra-slim acrylic which makes it ideal to use where space is at a minimum. The acrylic also has a special pattern printed on it, which allows the light to be picked up and evenly spread across the panels."
He went on to explain, "This was the first time that we had worked with the laminated natural stone and the effect produced is exactly what the client required. By using Prismex and LEDs together with this new product, we have created an eye-catching installation which fits in perfectly with the modern surroundings of the Hilton Hotel."
Chaos Design Consultants have used both Prismex and LEDs for feature lighting displays at offices in Finsbury and St. James Squares in London, Victoria, London, the Boots flagship store in Oxford Street, London and they are currently involved in the refurbishment of the former headquarters of Shell at Shell Centre in London.