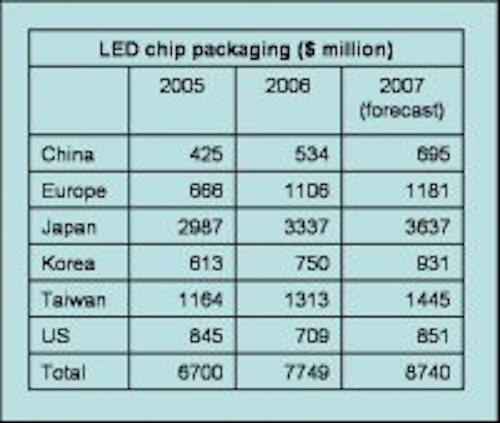 Japan was by far the leading producer of packaged LEDs in 2006, with a market value of over $3.3 billion, according to PIDA, the Photonics Industry Technology & Development Association based in Taiwan.
The trade association estimated that Taiwan had the second highest output for packaged LEDs, with a value of $1.3 billion in 2006, up from $1.16 billion in 2005. Other leading countries and regions were the US, Europe, Korea and China.
By 2009, PIDA forecast that all these countries/regions will have production exceeding $1 billion, and Japan's production will reach $4.2 billion
PIDA also said that Taiwan was the leading producer of blue LED chips in 2006, with global blue LED chip capacity increasing by 8.6% to 3.79 billion units.
PIDA's results were presented at the recent Blue 2007 conference in Taiwan and reported on the Digitimes website.