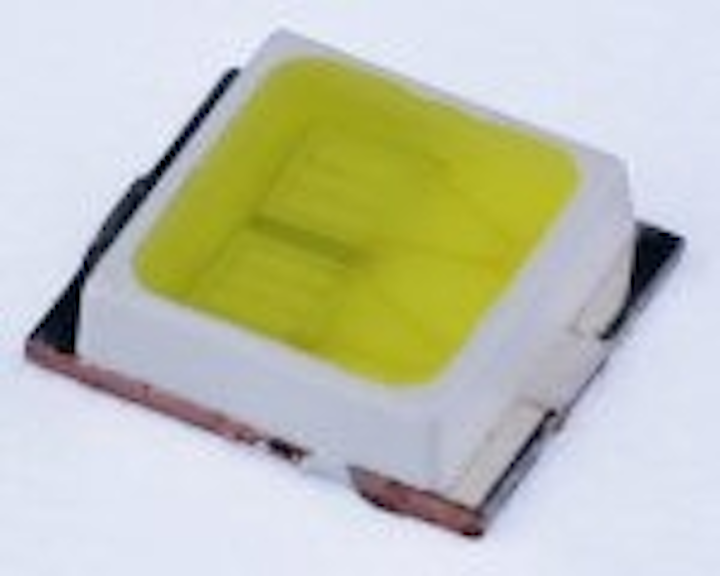 Seoul Semiconductor has launched a super bright and ultra-mini flash LED that is expected to replace the xenon lamps that are generally used as a flash light source for digital cameras or 5 mega-pixel camera phones.
The company says that its Flash LEDs are to be used by a global digital camera manufacturer to provide flash capability in its digital still cameras. No further details are available.
Seoul Semiconductor's new flash LED, the FCW211Z series, features high brightness, ultra-miniature size, and long lifespan.
FCW211Z can operate at a current of 2 A, and emit up to 100 candelas, which Seoul says is more than twice the brightness level of conventional LEDs for flash.
The light energy of the product is 26.49 lux.sec – this value is measured at a distance of 1 meter and is the light power (lux) multiplied by flash exposure time (secs). Seoul says this figure is comparable to that of a high capacity xenon lamp, and is expected to exceed the level of xenon in the near future.
The Flash LED's small size supports the miniaturization of devices, and is suitable for ultra-small products such as mobile phones, digital cameras and video cameras.
The FCW211Z Series measures 3.5 x 3.0 mm, with a height of 0.75 mm. In comparison, a Xenon lamp for a mobile phone typically measures 10.1 x 4.6 mm, with a height of 3.5 mm.
Seoul says its FCW211Z series enables the capture of moving images and continuous shooting without a need of charge while conventional xenon lamps are not available for those functions.
Furthermore, the LEDs offer more than two times longer lifespan than conventional xenon lamp.
"The performance of conventional LEDs were not the best for flash due to its poor brightness despite its availability in moving image, ultra-mini size, and long lifespan. However, with our new FCW211Z series, we can now enjoy both the advantages of LEDs and superior image quality with brightness that is comparable to xenon lamp," says Byung Hack Lee, head of the chip and module business division at Seoul Semiconductor.