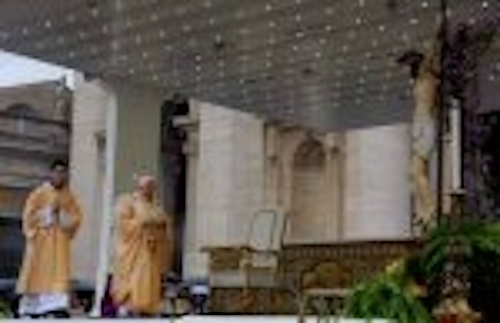 Italian lighting company Space Cannon has developed 10-watt LED lighting fixtures for the Podium, a new mobile platform from which the Pope can address followers.
When closed, the Podium has the same dimensions as a standard trailer for easy transportation. When stopped at the desired location, the Podium can be automatically assembled in a few minutes. First, four modules slide to compose the base, then the telescopic pillars rise and finally the cover wings unfurl.
The stage measures 100 square meters and is 4 meters high. The covering structure includes 196 recessed LED lights specially developed by Space Cannon for this application.
The 10-watt white LED fixtures are built using Luxeon Rebel LEDs from Philips Lumileds. Space Cannon said that the LEDs have "extraordinary" light output and allowed the lighting fixtures to have smaller dimensions, compared with other LEDs.