Circular LED screen is centerpiece for Emmy Awards
Stealth LED panels from Element Labs created a unique screen at center stage for the recent Emmy Awards show.
Oct 10th, 2007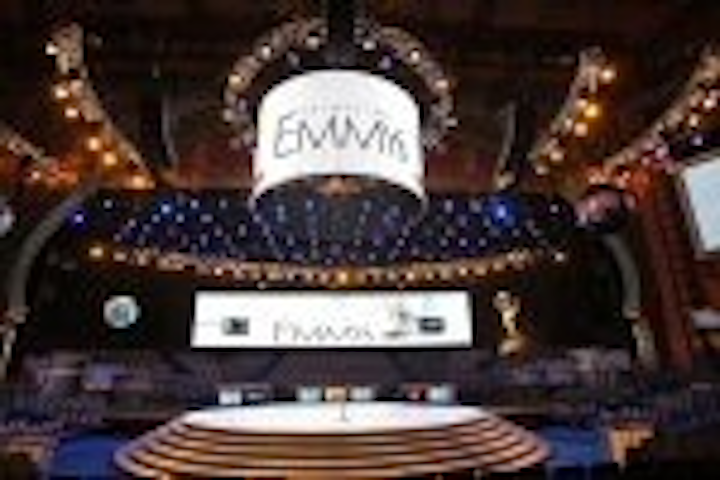 Designers for the televised Emmy® awards created an intimate, theater-in-the-round stage with the help of a cylindrical Stealth LED screen from Element Labs.
The 59th Annual Primetime Emmy Awards were held at the Shrine Auditorium in Los Angeles and aired live on the FOX TV channel.
The awards' designers sought a solution to the logistical challenges of producing a three-hour show without the comforting offstage areas of a typical theater layout. After considering several traditional options, they chose Element Labs' transparent Stealth LED video screen. XL Video provided 432 Stealth panels for the awards show.
Element Labs' transparent Stealth product is a low-profile, lightweight LED video display with fan-fold capability for rapid deployment. It is comprised of modular panels, integrated power and data distribution, rigging hardware, and video processing. Each panel is 40 cm square, weighs less than three pounds, and contains 256 pixels on a 25 mm pitch.
A cylindrical Stealth screen hung above the stage and lowered to the floor to assist with transitions from one production number to the next. While at eye-level with the live audience, a variety of video clips were shown on the Stealth screen. Once presenters and performers were in place, the screen rose for the reveal.
The Stealth screen was the focal point of the show's introduction, as the cylinder slowly rose from floor to ceiling to unveil Brian the talking dog and Stewie the talking baby from the animated series Family Guy. It was also integral to the set up for a performance by Christina Aguilera and Tony Bennett. The screen dropped to the stage floor and distracted viewers with video as the two singers, 10 dancers, and a baby grand piano and pianist got into position.
The Stealth screen also displayed animated category names, like "Lead Actress," as nominees were listed and winners announced, and displayed video that was integrated into performances, like the Jersey Boys' musical tribute to the Sopranos.