DRLs help LEDs move forward in vehicle applications
Daytime running lights are a strong growth market for LEDs in vehicles, according to a report from IMS.
Dec 13th, 2007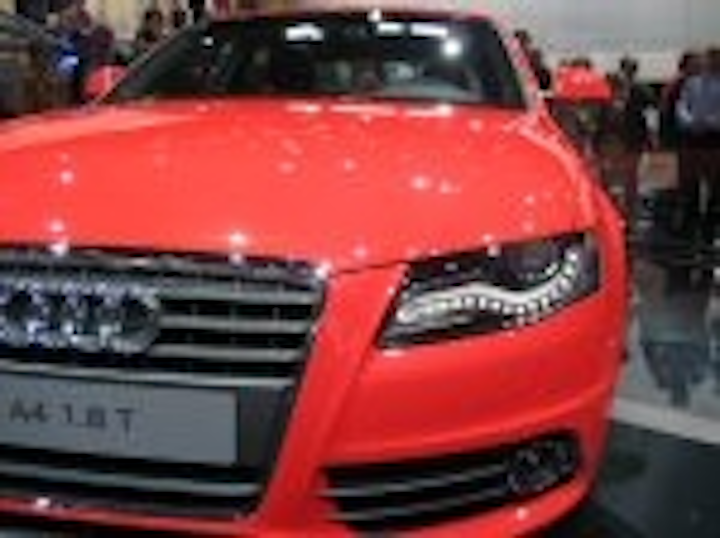 The car is becoming an ever more important home for LEDs as an alternative to incandescent light bulbs and halogen and xenon lamps. According to a recently published report, "LEDs in Automotive Applications" from IMS Research, their importance is set to explode. IMS says that the LED automotive market will double from $650 million in 2006 to $1.3 billion within 10 years.
Today most of the value comes from applications inside the car, such as backlighting dashboards and displays, as well as a wide range of indicator lamps. However the LED value from external lamps will rise from a third of the LED total to over a half by 2013.
Most external LED lamps are at the rear of the vehicle, providing brake, tail and turning light functionality. However, according to IMS analyst Jamie Fox, "Daytime running lights (DRLs) will become much more widely used in the future. The DRL business will grow from under $5 million last year to over $100 million by 2013."
Not all cars use DRLs. In some countries, such as Canada, Finland and Sweden, they are obligatory. In the USA and other countries they are not required but are used on many vehicles, while they are little used in other countries such as the UK. However DRL use is growing overall. EU studies have concluded that DRLs save lives, and a law requiring DRL use throughout the EU is widely anticipated.
Daytime running lights will offer a good opportunity for LEDs, according to Fox. "LED DRLs have long lifetime and low power consumption as well as an attractive appearance." LED DRLs, which were first introduced on the Audi A8 in 2004, are currently used on less than 1% of vehicles.
However, IMS Research forecasts that, with very strong growth after 2009, the market revenues for LED DRLs in the next decade will be similar to revenues for LEDs for functions used in rear lighting applications today. DRLs are the application that will lead the way for LEDs to move forward from the rear of the vehicle into front lighting.