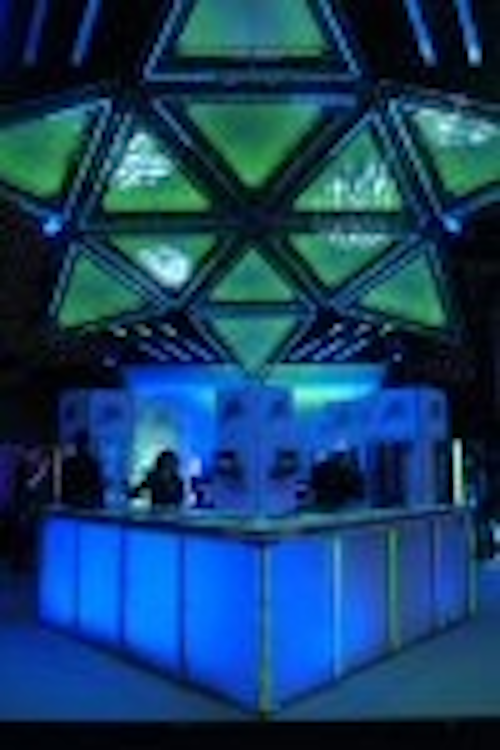 As in previous years, the lighting sector will be well represented at this year's PLASA show with thousands of lighting professionals heading to Earls Court to learn more about the technical trends set to define the next five years.
Leading the charge, as ever, will be the growing range of LED technologies. Further development of white LEDs has meant that 'traditional' sources are being slowly, but consistently, edged out.
And there's one other key development too: although the disciplines and technologies of lighting and video have evolved almost entirely separately, the simultaneous maturing of full-colour LED technology and digital imaging has dramatically changed the picture in recent years.
Today, the convergence between the two is effectively seamless, and new display technologies such as OLED will only continue the trend, even though products that are specific to either lighting or video continue to have their place in the market.
Anyone working professionally in the lighting sector needs to understand why - with tools like these - the lines between lighting and video are disappearing fast.
Framing all these developments will be an exhibition that is itself evolving: for the first time in its history, PLASA will occupy two halls of Earls Court and will offer a wide range of new features and events (many designed in response to visitor research).
Four days of exclusive seminars, training sessions and workshops will be held in four purpose-built PLASA Education Theatres on the main show floor in Earls Court 2, divided into official 'special interest' seminar theatre sessions and exhibitor-led sessions.
Last year's guest presenters Technologies for Worship and Infocomm return with an expanded seminar programme, while Cast Software will host a series of visualisation training sessions.
The Innovation Gallery - host to many of the new products being launched at the show - will for the first time become a specially designed feature of the walkway between Earls Court 1 and Earls Court 2.
And there have been changes to the Awards for Innovation too: in addition to the main product awards, a new Award – The Gottelier Award - is being launched to give the designers and developers across the industry recognition for their creative work.
PLASA07 is well worth a visit and essential for lighting professionals who want to understand how technologies are diversifying and how the nature of the business is developing.
You can save money by pre-registering online at www.plasashow.com. The website also contains pricing and timing information on the seminars, exhibitor listings, directions to the venue and a host of other useful facts.