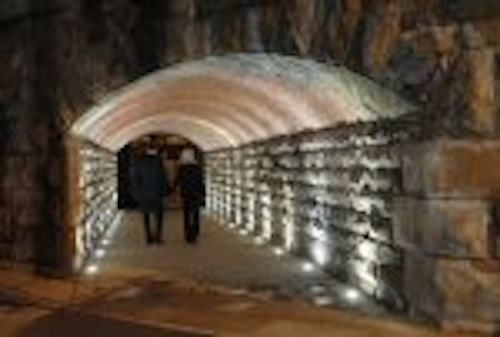 As part of an improvement initiative, LED lighting fittings supplied by Philips Lighting have been used to improve the pedestrian environment between the quayside and the town centre of Gateshead, a town in northern England.
A particular challenge was to illuminate an uninviting subway which runs along a section of this area. Because the outer structure is a tunnel underneath a railway, no fittings could be attached to the surface.
To overcome this limitation, Gateshead Council designed a scheme that included 18 recessed LEDs modules incorporating a mini photocell and opal glass, which were used to overcome any likely attempted vandalism.
The LED modules are evenly spaced at 2 metres intervals. The precision control offered by LED technology ensured accurate beams of light to graze the walls whilst the opal glass incorporated in the fixtures complemented the natural warmth of the brickwork and enriched the stippled texture still further.
In addition an IP68-rated plug and socket system was used allowing for easy maintenance of the electrical connections in the longer term without the need to undertake any further excavation work.
As John Holmes of Gateshead Council comments, "The in-ground LED modules are practically invisible by day but they really spring to live at night providing guidance for pedestrians and defining the area. We are also very pleased that the new design scheme provides us with an energy efficient and sustainable solution."