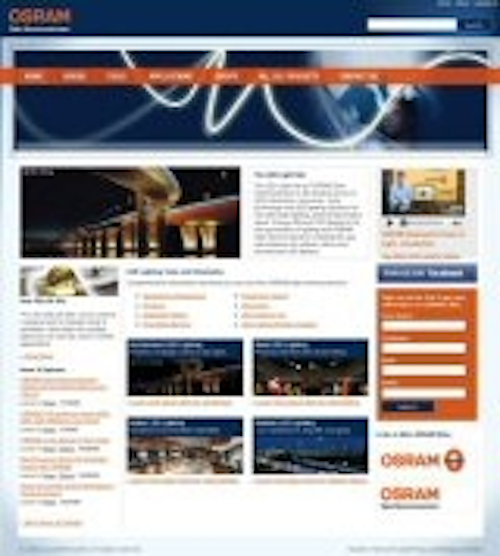 Osram Opto Semiconductors has unveiled a new website focused on LEDs for general lighting. The LED Light Site (
ledlight.osram-os.com
) provides news, technical information, support and tools in connection with LED lighting solutions in the fields of architectural, shop, outdoor and indoor lighting.
Osram says that the platform highlights the possibilities and versatility of LED light sources, as well as showcasing optimum LED applications in energy-efficient lighting solutions and development opportunities for new products and application concepts.
"It is not only the individual compenents that testify to the quality of a lighting solution but their performance at the application stage," emphasises Michael Fiebig, Head of SSL Marketing at Osram Opto Semiconductors.
"Though still in its infancy in the general lighting field, even intricate lighting creations can be realised with this technology, thanks to the intelligent interplay of individual LED components, modules, luminaires and lamps as well as matching operating and control devices. [The new wesbite gives] our customers a great jump start in this domain."
The website ledlight.osram-os.com specifically targets experts and early adopters on the LED market. The website provides news and trends, as well as the latest videos featuring expert statements. Customers benefit from support with LED applications and can access important information such as standards or interactive product data. And the website user can also gain direct access to data sheets, CAD data plus electrical, optical and thermal data on Osram Opto's LED products.