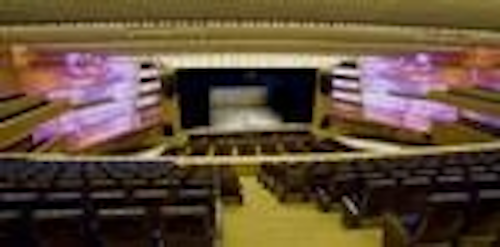 The main auditorium of the State Kremlin Palace in Moscow recently underwent an
architectural LED lighting
remodel that features RGB LED panels, supplied and installed by Divolight, which are centrally controlled by an e:cue lighting control system.
The auditorium is encased by towering walls, which is where the LED panels were installed. The panels create two large curvilinear LED screens, measuring 15m x 60m.
This new multidimensional environment includes over 472 DMX universes (241,664 DMX channels) from e:cue, making this installation one of the biggest LED control projects worldwide. Control is achieved by 236 e:cue Butlers, fully orchestrated by a Media Engine 2 and a Video Control Server (VCS1) capable of playback of multi-layered videos, images, scrolling or static texts. Additionally, e:cue's Excite+ was used as a DMX-to-USB interface, allowing necessary integration of a lighting control desk into e:cue's central control system.
The architectural LED lighting remodel, led by architects from the studio OTASH, was meant to integrate modern elements into the existing architecture of the Hall, as well as to create a multifunctional space. OTASH arranged the LED panels to construct an entire environment for visitors to experience, instead of simply directing sole focus to one portion of the space.
Formerly known as the Kremlin Palace of Congresses, the State Kremlin Palace has been a famous center for Russia's political and cultural life. Erected in 1961 and intended for use as a modern arena for Communist Party meetings, congresses, performances and concerts, State Kremlin Palace contains over 800 rooms, and its central space remains one of Europe's biggest auditoriums with seating to accommodate 6000. Today the space is used primarily for concerts and ballet performances, is home to Kremlin Ballet Theatre, and acts as a second stage for the Bolshoi Theatre.