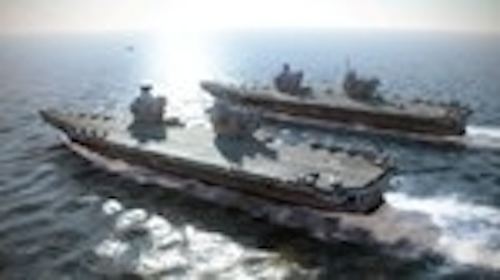 Oxley Developments, an LED lighting manufacturer, has been awarded a contract by Northrop Grumman Corporation to provide detailed engineering of LED navigation and signal lights for the two new Queen Elizabeth class aircraft carriers currently under construction for the Royal Navy. The value of this contract is confidential.
Under the contract, awarded by Northrop Grumman Sperry Marine, Oxley will provide engineering services for the ships' navigation and signaling lights, including sidelights, stern light, anchor light, maneuvering lights and warning signals. The scope of work encompasses 11 different light specifications. LED technology will be implemented throughout, ensuring high reliability, low maintenance and reduced electrical load power requirements resulting in low through-life costs.
The LED navigation and signal lights will meet International Regulations for Preventing Collisions at Sea (COLREGs), and will be Oxley NVG Friendly™, which means they will be suitable for operation with Night Vision Goggles.
Oxley will work with the client to design the lights and produce procurement drawings which will be submitted to the client along with related documents and information. Its engineering team will adapt existing lights and technology to meet the specifications set out by Northrop Grumman.
Sales and Marketing Director for Oxley, Andy Bednarek, said: "Several years ago Oxley worked with the UK Ministry of Defence's (MoD) War Ship Support Agency to supply an NVG Friendly LED-based upgrade for the existing navigation lighting system on the Invincible class carriers. On that project, we replaced the incandescent filaments used in the statutory lights with LED modules.
"This time," Bednarek continued, "we are engineering a state of the art set of LED NVG Friendly navigation and special operations lights suitable not only for the Queen Elizabeth class, but any other vessel greater than 50 metres in length."
The ships, HMS Queen Elizabeth and HMS Prince of Wales, are being built across six ship yards in the UK with the first ship due to enter service in 2016. They will be the biggest and most powerful surface warships ever constructed for the Royal Navy.
The Royal Navy aircraft carrier contract comes hot on the heels of a recent Oxley £270k deal with Australian firm ASC Pty Ltd to supply an LED lighting system for the Royal Australian Navy Collins-class submarine.