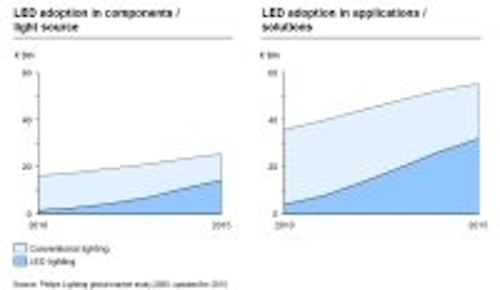 Philips has unveiled its Vision 2015 strategic plan, in which solid-state lighting plays a major part. Philips president and CEO Gerard Kleisterlee said "We will continue to build on the key global trends to expand our leadership in key businesses such as home healthcare, LED lighting solutions and healthy living and personal care. I firmly believe Philips is uniquely positioned for growth as it continues to simply make a difference to people's lives with meaningful, sustainable innovations."
Details were revealed at the company's annual Lighting Capital Markets day in London.
Speakers included Rudy Provoost, CEO of
Philips Lighting
, who described the lighting market as "extremely dynamic," adding "We see the global shift to energy efficient lighting solutions and the rapid adoption of LED accelerating our growth. Emerging market expansion continues and we expect to capitalize on the positive long-term trends in those markets. Against this backdrop, we are strongly positioned to solidify our global leadership through delivering unique customer segment applications and solutions while leveraging our strong position in conventional lighting."
Provoost said that the global lighting market is expected to grow at a CAGR of around 7-9% from 2010 to 2015, to around EUR 80 billion (around $105 billion), with LED lighting accounting for just over half the total. He described LED adoption as "the key driving force for growth in the lighting industry."
Fig. 1 shows Philips' estimates that the market for lighting applications and solutions in 2015 will be around twice the size of that for components and light sources, and that LEDs will account for a large chunk of each of these segments.
Provoost said that digital lighting is driving significant opportunities for both light sources and applications. "LED-based applications offer increased possibilities for customers," he said. Examples include intelligent solutions including controls and system integration, dynamic and interactive lighting applications, and "breakthroughs in total cost of ownership."
For lighting in general, there are large opportunities in emerging markets, driven by population growth, urbanization and increasing per capita income. This growth will occur alongside steady growth in mature markets, driven by legislation concerning inefficient products, and a move towards higher-value, energy-efficient products.