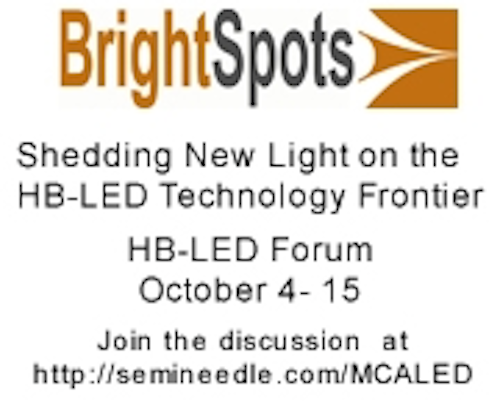 For two weeks in early October, the
BrightSpots LED Forum
online panel discussion will enable industry professionals to partake in an active discussion exploring the key issues surrounding HB-LEDs, from design to manufacturing.
The forum is hosted by MCA, a global high-tech communications agency, in cooperation with SemiNeedle.
The BrightSpots LED Forum offers a platform for continuous dialogue that extends the life of a traditional panel event. Running October 4-15, 2010, the BrightSpots LED Forum will feature a lineup of industry experts exploring critical issues associated with HB-LED technology and addressing questions from the public.
Moderating the forum will be Tim Whitaker, editor and founder of LEDs Magazine. Panelists include industry leaders from throughout the HB-LED value chain:

David Bour, Chief Technologist, LED Product Technology, Applied Materials

Thomas Uhrmann, Business Development Manager, Compound Semiconductors and Si-based Power Devices, EV Group

John Wilson, Consulting Engineering Manager, WRO, Mechanical Analysis Division, Mentor Graphics

Willem Sillevis Smitt, Director of Strategic Marketing, Philips Lumileds

Manish Ranjan, Vice President of Product Marketing, Advanced Packaging and Nanotechnology Markets, Ultratech
BrightSpots is a forum that combines elements of a blog, webcast and physical panel event to provide continuous discussion on a variety of important industry topics. With participants actively engaged in this online forum, BrightSpots extends the life of discussions on issues that are important to both them and the broader industry. For more information, please contact Angie Kellen at akellen@mcapr.com or on Twitter at @akellen.