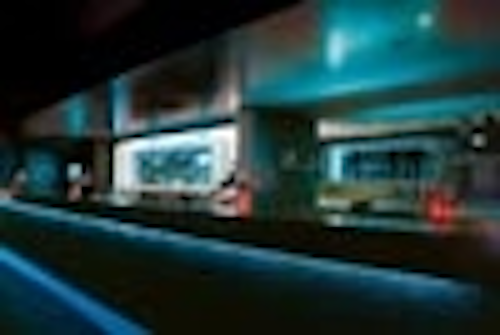 The famous English ale house "The Bended Elbow" in Geelong, Australia recently redeveloped the top floor of its premises into the exciting new Ink Nightclub, designed by Perth Architects Oldfield Knott.
Lightmoves were contracted to provide special effect lighting throughout the venue. The bar was enhanced by the use of Osram color-changing LED strips, which provided key perimeter lighting along the front and back.
Lightmoves also took this opportunity to road-test Pulsar's latest LED luminaire, the Chroma Wall Ellipse. Positioned along the stairways and upstairs lounge areas, the Wall Ellipses combine a decorative element with functional subtle color-changing downlighting.
Standard incandescent Horizontal Mini lighting was also used to great effect to light the steps, as well as highlighting the edges of the decorated fabric wall panels and DJ's console. A total of ten ChromaMR16 LED downlights were also used to light the bottle displays behind the bars.
As with most Lightmoves installations, an Enttec DMX Streamer with Remote Playback was used to run the color-changing process. The result is a superb looking installation with an easy interface that allows the manager to easily select the color of the room to suit the mood.