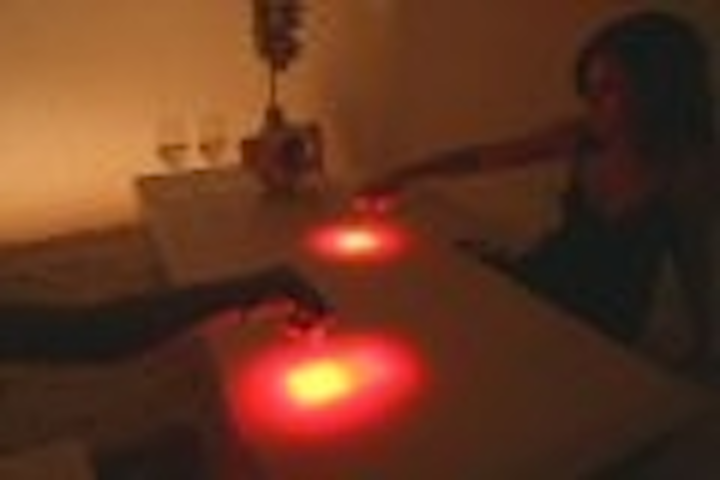 Sensacell Corporation, a Brooklyn, NY-based company, has introduced the Modular Sensor Surface- a system that combines LED lighting with capacitive sensors to create what is in effect an architectural scale touch-screen.
Designers can now easily create environments where large surfaces become interactive elements. Proximity sensors in each module sense activity while LED lighting provides visual feedback.
The system consists of 6 x 6 inch modules that can be assembled into arrays of any size and shape, from a single module to thousands of square feet. Each module has proximity sensors that can detect movement of persons or objects up to 6 inches away through any non-conductive material.
The modules can function autonomously providing visual response to movements, or act as an interface that feeds data to an external computer, which can then remotely control the built-in LED arrays - effectively a giant touch screen.
Masamichi Udagawa of Antenna Design, New York, says, "For me, as a designer, the beauty of Sensacell is that it is truly plug and play. I can focus on my design and what it should do without having to think about how to accommodate the technology. It's a very flexible and beautifully simple system."
System design
Leo Fernekes of Sensacell explained to
LEDs Magazine
that there are two product variants, the S61-49 and S64-36. "Both use modules that are 5.75 inches square and are meant to be mounted on a 6-inch grid spacing," he says. The LEDs used are PLCC2 surface-mount super-bright parts.
The S61-49 has a single sensing electrode and 49 LEDs. The 6-inch sensing range and high-density LED array makes it ideal for user interface applications such as through-the-window kiosk control, interactive exhibits and backlit interactive signage applications. The S61-49 can also output proportional "Z axis" data.
The S64-36 has four 3-inch sensing electrodes and four LED pixels; it has a sensing distance of 3 inches. It contains 36 LEDs total. This model is intended for large-scale interactive surface applications.
The LEDs are controlled by onboard PWM dimmers that can be controlled directly by the sensor, or remotely from a host computer. The modules have several autonomous operating modes that can be selected to provide a wide range of direct visual feedback options such as: on/off toggle, ramp dimmer up/down on sensor state; bi-stable mode, where each trigger changes the state; and many more.
Fernekes says that the company utilizes contract manufacturers to build its products. "Sensacell is a patented product; our patents cover key aspects of our modular sensor surface technology," he says.