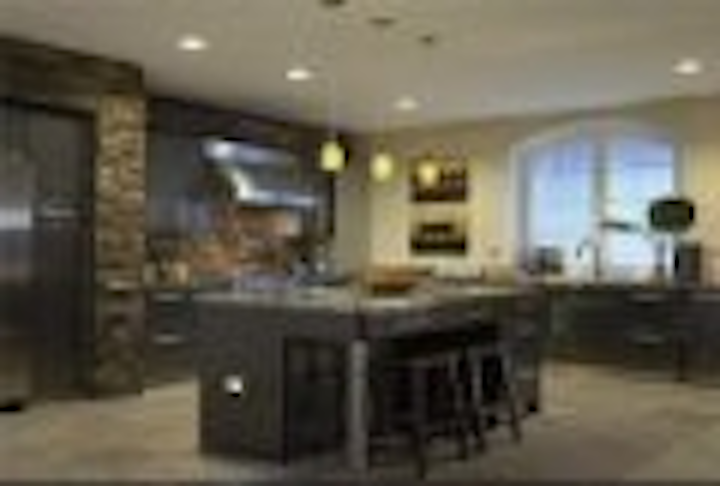 Permlight and Progress Lighting are set to launch a range of more than 50 LED residential lighting fixtures at the Pacific Coast Builders Conference, due to be held in San Francisco, California, in June.
The companies claim that the HI-EF products last for 10--15 times longer than conventional lighting fixtures, and deliver energy savings of up to 80%. They also comply with the Californian Title 24 energy code and the Title 22 hazardous waste code.
The two companies also announced that an upcoming recessed LED has also been shown to comply with Title 24, and delivers a luminous efficacy in excess of 40 lm/W.
The new fixture delivers warm-white output at 2750 K, is fully dimmable using standard off-the-shelf dimmers, contains no mercury or cadmium, and is expected to be priced below dimmable fluorescent recessed cans. It consumes half the power of fluorescent lighting and five times less than incandescent bulbs.
Permlight and Progress announced back in March that they would work together to bring residential LED lighting products to market (see news item.
Permlight Products is an LED lighting manufacturer, while Progress Lighting is the leading supplier of residential lighting in North America. The new products are based on warm-white LEDs supplied primarily by Nichia and Cree, which have efficacies exceeding 40 lm/W.
Residential design assistance
Permlight is also working with members of the US National Kitchen and Bath Association to support homeowners who are seeking to install LED lighting as part of their building projects.
As a result, a number of kitchen and bath design centers have been certified to provide a design and installation service for Permlight's residential lighting fixtures. Ten design firms have been certified in California and Nevada so far, and a complete list can be seen at www.permlight.com/applications/designassistance.asp