Osram targets projection market with new Ostar LED
Rear projection TV is an emerging market for high-power LEDs that is now being addressed by a new Ostar product from Osram Opto
Oct 31st, 2006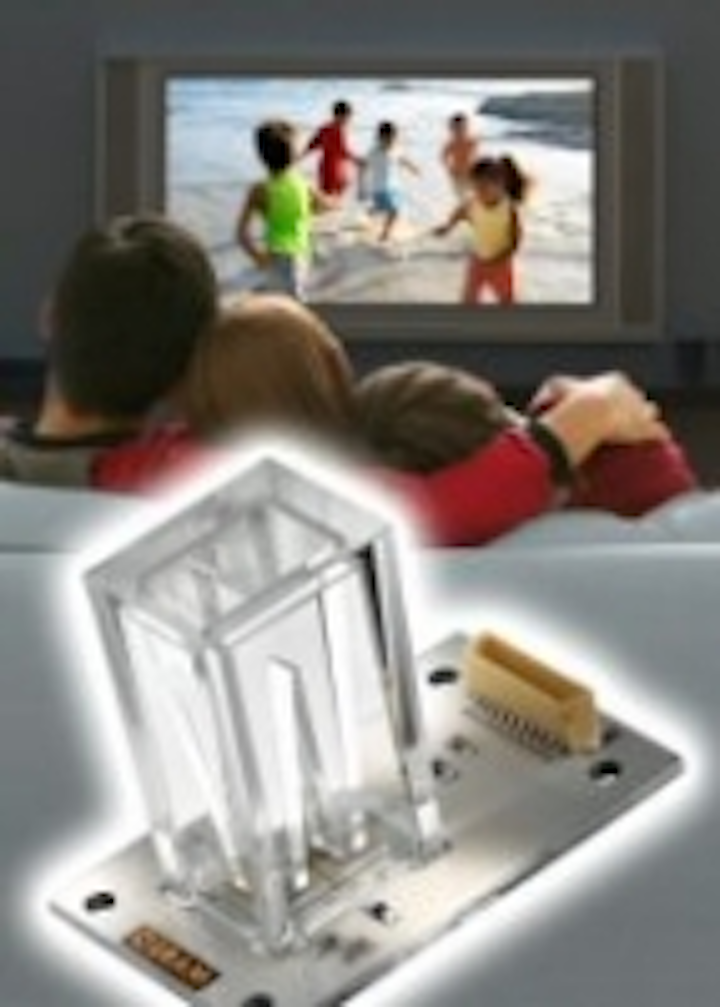 The latest member of Osram Opto Semiconductor's Ostar family – Ostar Projection RPTV – is, as the name suggests, a high-power LED light source suitable for use in projection systems.
The LED has been designed specifically for rear projection television (RPTV) applications, and will compete with other high-power LED sources such as the PhlatLight chipset from Luminus Devices.
RPTV requires one red, one blue and one green Ostar, each with a special lens. For an emission angle of 18° (green) and 25° (red and blue), the light sources achieve a brightness of 1250 lm (green), 750 lm (red) and 180 lm (blue) in 1 A DC mode. Osram says that much higher values are possible in pulsed mode and under appropriate operating conditions.
An Osram Opto spokesperson told LEDs Magazine that each OSTAR Projection RPTV contains a total of 12 chips in two "fields" or arrays. Each array contains two rows of three chips each.
The Ostar STAR Projection RPTV can be applied to all projection systems using digital lighting processing (DLP), liquid crystal on silicon (LCoS) or liquid crystal display (LCD) technology. The LEDs have been developed specifically for imagers of 0.85 to 0.95 inches used in systems with an aperture size of 2.0 to 2.4.
Depending on the colour, the LEDs are manufactured in thin-film technology (red) or ThinGaN technology (blue, green). As pure surface emitters with optimum light injection, these light sources are extremely efficient. In combination with the appropriate imager, the LEDs can achieve the required system output of 300 lm for RPTV.
An RPTV with a screen diagonal of 56-inch equipped with these LEDs can achieve a luminance of up to 500 cd/m2. This ensures that the picture has good contrast, vibrant colours and razor-sharp definition. Instant switch-on and long lifetime are other key advantages of LEDs in RPTV applications.