Tryka LEDs illuminate World Cup globe
Jun 26th, 2006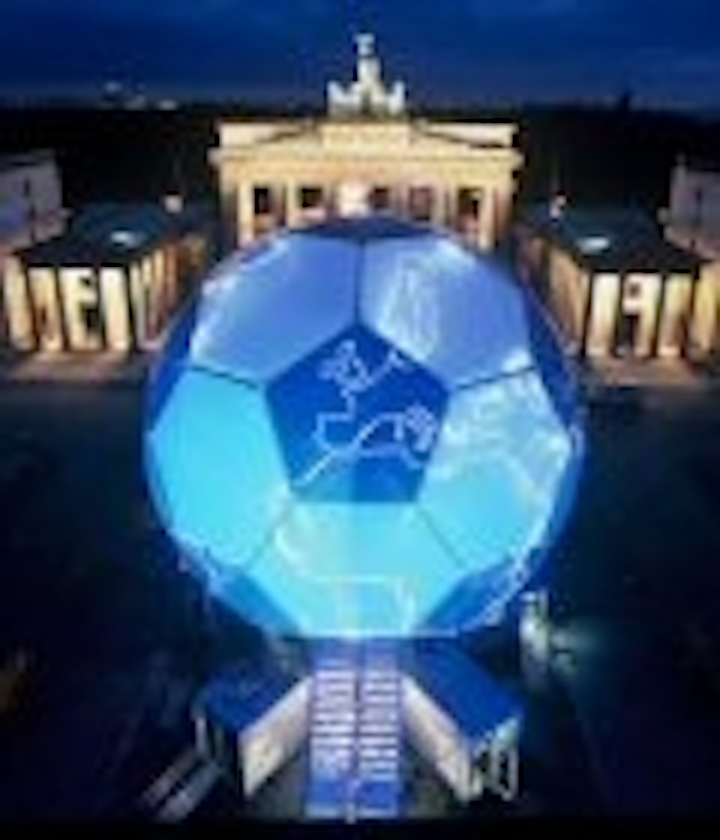 With the World Cup approaching the final stages, the FIFA Globe has finally come home to Frankfurt after touring Germany for the past two years.
The 17.8m-tall structure designed by multimedia artist André Heller was built using 60 tons of zinc-coated steel. Before arriving in Frankfurt, the FIFA Globe had been travelling across Germany promoting the 2006 FIFA World Cup.
Looking like an oversized football by day, the sculpture is transformed into an illuminated globe by night, thanks to a total of 46 LED fixtures positioned around the edges of the hexagonal and pentagonal panels.
Specifically, the fixtures are 40 Tryka Strip Module Optic IP67 1200mm and 6 Strip Module Optic IP67 600mm, all driven by Tryka Modulation Drivers and programmed by DMX. Lighting designer Antonius Quodt was responsible for specifying the equipment.
Sabrina Marenghi, Marketing Manager for Tryka L.E.D. Ltd, told LEDs Magazine that each hexagon is made of a 3-layer pneumatic air pillow, custom-made for this specific project. "Our Strips were fitted between two of the layers of each hexagon during construction," she said. "With regards to the continents, these are the result of video projection, which is synchronised with our lighting to create a variety of visual effects."
The interior of the imposing FIFA Globe – made connecting 256 meters of steel pipe to create the desired shape – is split over two floors. The first floor is an exhibition of football memorabilia, such as one of David Beckham's shoes and the 1990 World Cup Trophy, whilst the second level is covered in Astroturf to create the effect of a football pitch and – through the use of touchscreens and trackballs – visitors are able to play a virtual game against on-screen players.
Artevent co-ordinated the project and helped in bringing artist Heller's creation to life.
Tryka's Managing Director Chris Rolph enthuses: "Tryka is proud to be associated with FIFA and to be promoting football to the wide public. The unique event that is the World Cup is deservedly represented by this inimitable work of art."