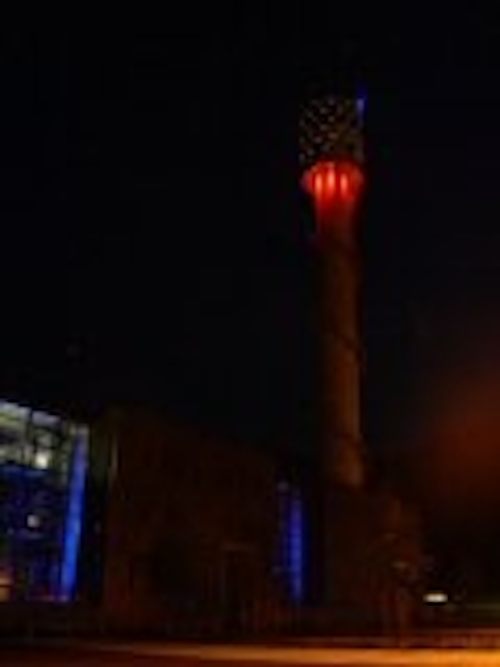 In the field of building engineering and architecture, the use of LEDs presents new design options. The new CEDES Science Park in Landquart, Switzerland, headquarters of optical sensor manufacturer CEDES, provides examples of some of the numerous ways that LEDs can be used in building engineering for lighting and visual design.
CEDES used its more than twenty years of experience in designing and marketing products using LEDs -- the company is one of the world's largest manufacturers of light curtains using infrared LEDs -- to create new and innovative ways to use LEDs in the workplace.
A total of more than 20,000 LEDs were used both inside and outside for lighting and to highlight the aesthetics of the building. CEDES developed and manufactured all the LED lighting systems in-house.
The CEDES Science Park landmark is a 60-metre high test tower used by CEDES in the development of components for elevators. At night, LEDs illuminate the 2.5-meter-high company logo at the very top of the tower in the company's "CEDES blue" brand color.
The tower's dome is 10 metres tall and 8 metres across, and the outer shell is designed in the geometrical form of a polished diamond. The dome glistens in the sun by day, and by night 72 warm white 1-watt Osram LEDs ensure that the gleaming diamond effect continues.
"Light pipes" ensure that the tower remains fully visible by night (up to 10 kilometres horizontal line of sight). Power-LEDs make the whole tower glow in the darkness in eight constantly changing shades of colour.
Inside the CEDES Science Park buildings, blue LEDs are used for background lighting and to create a cool ambience. Even CEDES-designed office desk lamps exploit the advantages of LEDs. They illuminate the workplace with a pleasant and energy-saving light, which is easy on the eye.