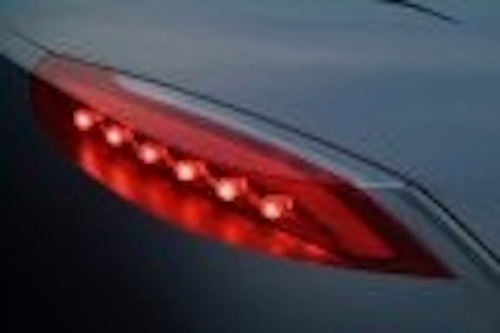 LED lighting from Valeo has been used throughout the Renault Nepta concept car, a spectacular four-seater cabriolet on show at the Paris Motor Show which opens this weekend.
Renault says that LEDs are more durable than current light sources and consume less electricity, making them the ideal choice for future vehicles.
The rear lights use Valeo's "2.5D" technology, combining LEDs and light guides for a unique appearance.
The front lighting scheme combines dipped and main functions in a single unit. They use Valeo's total internal reflection (TIR) technology with solid optical lenses controlled electronically for more precise lighting. The quantity and distribution of the light automatically adapts to the driving conditions.
The main bean lamps feature a steering function that switches on progressively a line of LEDs as the steering wheel is turned.
The rounded forms of the front wings are enhanced by boomerang-shaped amber indicator lights, positioned at the top of the lighting units.
Other concept cars at the Paris Motor Show featuring LED lighting include Citreon's C-Metisse.