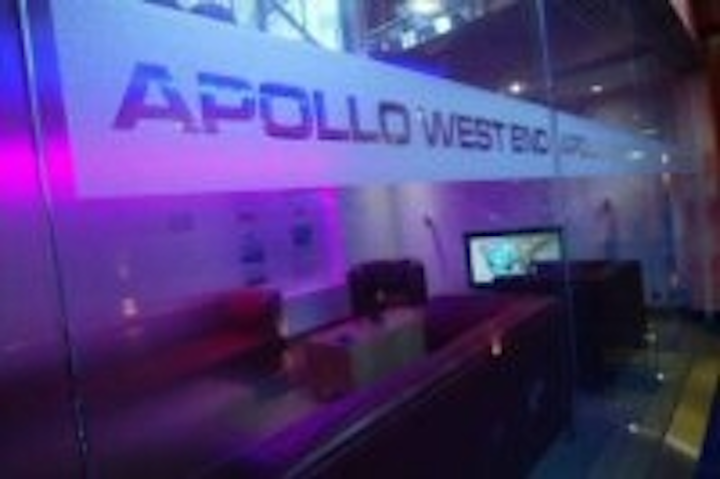 During the last two years, the Apollo Cinema group has completed a number of new-build cinemas across the UK, starting with their flagship site in London's West End.
Every auditorium in each cinema has used LED-based illuminated step nosings from Spain's Mundocolor; these have been supplied, installed and commissioned by cinema sound and projection specialists Sound Associates.
The nosings are fully assembled and cut to length in Mundocolor's Barcelona factory, which greatly speeds up the installation process. Trailing wires are provided for connection – and typically the nosings are daisy chained to the adjacent step. A wire-way system can also be used to contain and protect surface mounted cables, or alternatively the cables can be installed under the carpet.
The system uses solid-core fibre-optic tubing for an even light across the step. For steps that are longer than 1.2 m, a single miniature LED-based illuminator set at one end of the step with a reflector at the other provides sufficient light. Steps over 1.2 m have a miniature LED illuminator set at both ends.
In addition to the step nosings, Mundocolor also manufactures illuminated Row Identification (letters and numbers) which can be built into the nosing. Alternatively, row illumination, as well as disabled seating areas, can be identified by the Numberled system – a plate with an engraved legend which again uses LEDs for illumination.
By use of a suitable dimmer, the step lights can be dimmed during the presentation, and raised to full output at the end of the performance or in the event of an emergency. The low power requirements of LEDs allow a very cost-effective battery back-up system to be utilised.
The Step Lighting products boast a 100,000 hour LED life, with a low operating current and power consumption of only 0.3W per LED. The fittings require only a single LED for steps under 1.2 m in length, and can be custom-made to length for ease of installation
Available LED colours are white, blue, green, red and yellow, and 12VDCand 24VDC versions suit all applications. Stair nosings are silver or black anodised, with contrasting non-slip rubber inserts.