Philips improves LED snowflake efficiency at Saks
Philips has improved the energy efficiency of the LED snowflakes used in the Saks Snowflake Spectacle, and a park in Brooklyn is also using half a million LEDs for its holiday lights.
Nov 30th, 2006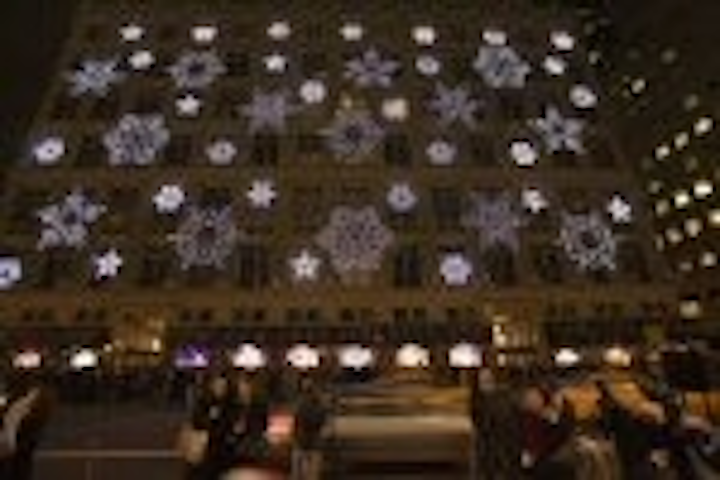 Christmas comes early in New York, and shoppers can already view the annual Snowflake Spectacle on the outside of luxury retailer Saks Fifth Avenue.
Philips Electronics has replaced the snowflake design with 40,400 newly upgraded LEDs to make this year's spectacle the brightest and most energy-efficient ever. A total of only 2600W of power - the equivalent of just three toaster ovens – is used to illuminate the fifty 8-foot and 20-foot illuminated snow flakes.
Onlookers are entertained by a high-tech snowflake LED-light show choreographed to a modern version of "Carol of the Bells."
The project required 40,400 LED modules, strung at a length of 13,480 ft., or 2.55 miles, to cover 36 eight- foot diameter and 14 twenty-foot diameter snowflakes.
"The LED system used to create the Saks Snowflake Spectacle is a terrific demonstration of Philips' innovation in creating sustainable, energy-efficient lighting solutions," said Govi Rao, Vice President and General Manager of Philips Lighting North America's Solid State Lighting Business. "Philips' partnership with Saks provides a unique opportunity to showcase our capabilities in a way that can fit simply within consumers' lifestyle."
Also in New York City, half a million LEDs have been used to illuminate Prospect Park in Brooklyn to celebrate the park's 100th anniversary. Light Waves Concept supplied the LEDs and teamed up with lighting designer Jim Conti to build the fixtures, which are used at the park's four entrances.