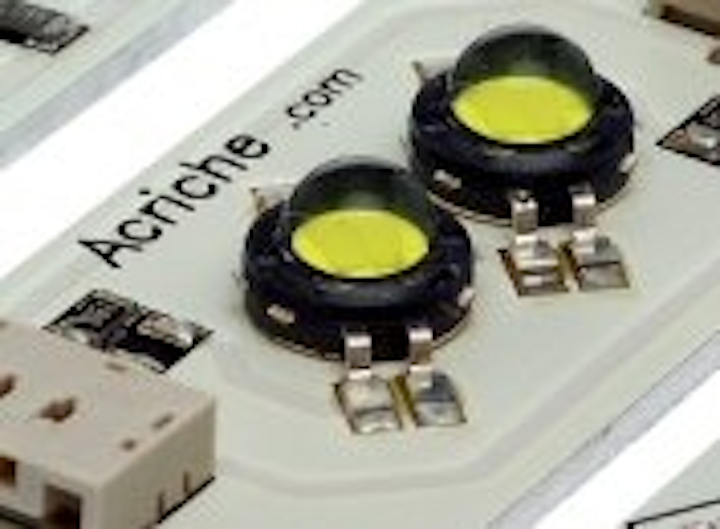 At electronica in Munich this week, Seoul Semiconductor announced that it is now in mass production of its Acriche AC LED lighting source, which can be directly connected to 110 volt or 220 volt AC outlets using a simple circuit, eliminating the need for a DC converter.
The product comes in three formats; there are two boards with standard connectors that contain either two or four LEDs, as well as a two-LED board without connectors (see photo). The two and four-LED boards are designated as 4 W and 8 W devices, respectively.
Seoul first discussed its AC LED technology at the beginning of 2005 (see Seoul Semiconductor unveils LED for AC technology (Feb 2005). The company has used a chip-level approach that allows different regions of the chip to switch on and off when the alternating current changes direction. In other words, for each half cycle part of the chip emits light and part is dark, and this is reversed during the next half cycle.
In contrast, Lynk Labs, another proponent of AC LED technology, has an assembly level approach using standard chips or packaged LEDs (see Running LEDs from an AC supply (May 2006) ).
Seoul Semiconductor's chip-making subsidiary Seoul Optodevice Co., Ltd successfully developed a packaging process for the Acriche chip, which it has developed and improved. The company also has more than 100 patents for this upgraded chip.
Seoul Semiconductor says that the Acriche technology compares favorably with other lighting technologies (see diagram) and is planning to improve efficacy from the current level of 40 lm/W to 80 lm/W by 4Q 2007 and to 120 lm/W by 4Q 2008.
Lee Jung-Hoon, CEO of Seoul Semiconductor, said "Now that mass production of semiconductor lighting for AC outlets is possible, LED applications are no longer limited to cell phones, computers or cars, but can expand to general lighting applications as well."
Seoul Semiconductor says it plans to sell Acriche to its key customers first, and will then expand its supply to general lighting companies early next year. The company has finished patent registration and application in several countries, and plans to occupy and expand this market. Seoul expects that Acriche sales will reach 20 billion Korean won (about $20 million) by 2007, 100 billion in 2008 and 300 billion in 2009.