LEDs brighten up Great Ormond Street Hospital
Color-changing LED fixtures have been used to illuminate a glass floor and wall in the entranceway of a London hospital.
Jan 11th, 2006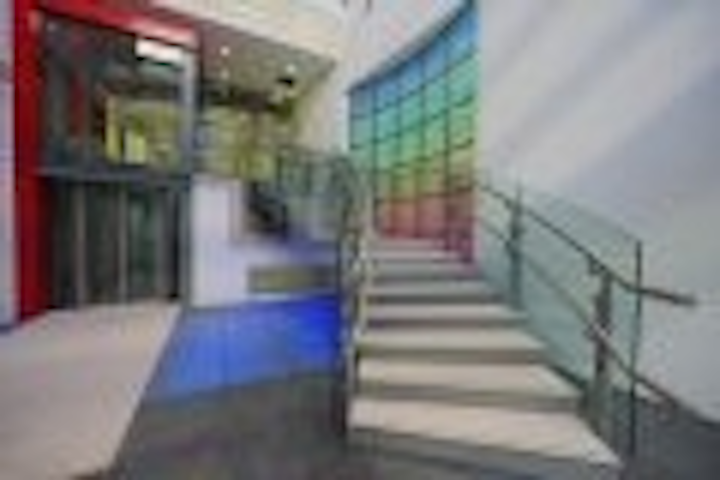 Lighting Technology Projects (LTP) has specified and supplied 19 Color Kinetics ColorBlast 12 wall washing LED fixtures and 128 pieces of CK wide-angle iColor Cove NXT for the main reception of the new "Patient Hotel" at Great Ormond Street Hospital (GOSH) in London, UK.
The hospital's ongoing modernisation scheme includes a £14 million Patient Hotel development to provide free long and short term accommodation for patients and parents. A large colourful feature lighting scheme was proposed for the Hotel's pre-reception entranceway by Ove Arup.
The 6 square meter tiled frosted glass floor runs the entire width of the Patient Hotel entrance's floor, and continues right up the wall beside the staircase, finishing at the ceiling. Forming a giant light box, it's an attractive, eye-catching centrepiece, programmed with various undulating, slow cross-fading patterns.
LTP's Terry Reeves knew that the ColorBlast 12 was an ideal fixture to under-light the floor section. Given the required spread of light and even colour-field distribution, the fixture proved to be the best value-for-money solution.
When it came to illuminating the wall, Reeves chose the new wide-angled iColor Cove NXT LED fitting, picked for its very wide angle of emission. The fittings were also practical to install, utilising the loom-type wiring detail and compact fixture size.
The Cove fittings are attached to the rear of each individual light box surface, and reverse-light the tiles off the matt white rear surface.
GOSH's new lighting feature is controlled via one of CK's iPLayer 2 controllers, a compact multiple show storage and playback system accommodating a full DMX universe of 170 individual light addresses. One long show or multiple shorter shows can be programmed and downloaded to the iPlayer 2 for convenient playback. Reeves supplied the controller together with an 8 button recall pad for hands-on access and the local triggering and changing of show selections. This set up is easily operable by non-technical staff.