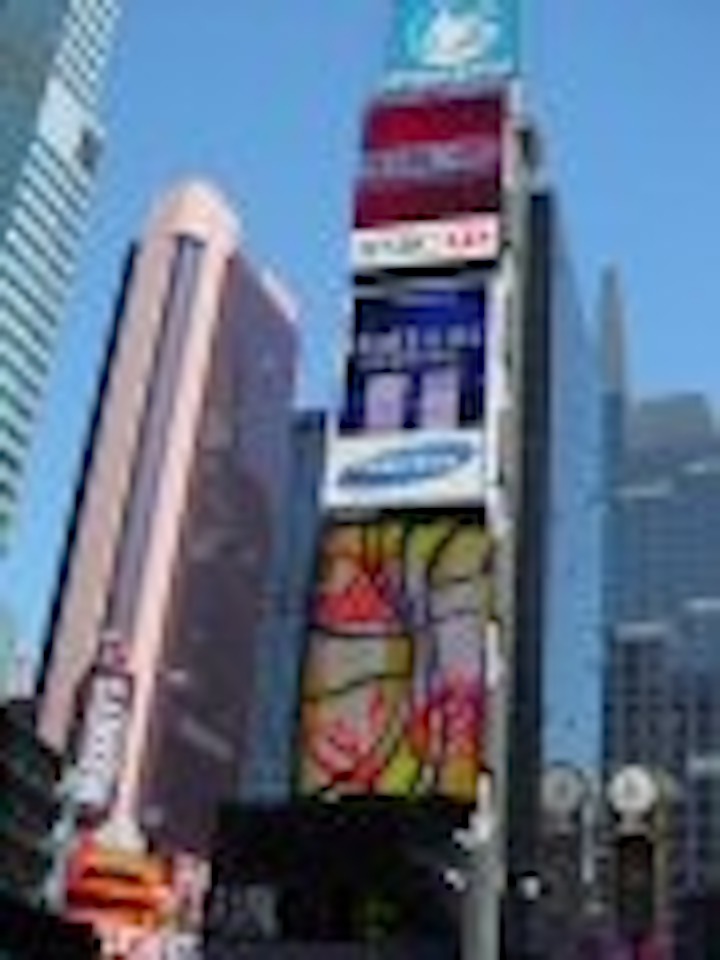 Daktronics installs LED sign for Prudential in Times Square
Daktronics has installed a ProStar® video display for Prudential Financial on the summit of the tower at Two Times Square, located at 47th and Broadway in New York. The new video display, which is approximately 40 feet high by 40 feet wide (12.2 m square), replaces Prudential's static vinyl backlit sign, which has been at the top of the tower for 10 years.
The installation joins two other Daktronics displays on the tower, the Coca-Cola® spectacular and Samsung's 65-feet-tall, full-color ProStar® display.
"We considered several providers and decided to accept Daktronics bid," said Glenn Nutting, vice president, Prudential Advertising, Prudential Financial. "The criteria important to us were the price and Daktronics increasing presence in Times Square. Daktronics also has a sales and service office in New York, and we felt this would be beneficial to us."
Prudential Financial's new video display is large enough for text and images to appear clear and distinct to people on the streets far below. Daktronics custom-configured the display face orientation to accommodate the distance between the displays and the viewers.
Chinese company builds colossal LED screen
Chinese electronics giant Konka Group has started building a colossal LED screen in Shenzhen, on which images can be seen clearly from eight km away, according to the People's Daily Online website.
The screen measures 13 by 23 meters, is almost three times the size of a badminton court, and contains 4.5 million pixels.
The screen will be built in Shenzhen city, in south China's Guangdong Province, to play commercials and other programs. The company said they also want to show their advanced technologies in the LED field by building the screen.
New LED-lit street signs for Beaumont
The city of Beaumont, Texas has begun to install LED street signs to replace the flat intersection street signs with the shiny letters that reflect light.
At the Delaware Street and Dowlen Road intersection, the city's first LED-equipped street sign pops out of the nighttime vista with glareless light and clarity, according to the Beaumont Enterprise newspaper.
"We're going to start seeing a lot more of these," said Tom Warner, the city's public works director, explaining that LED-equipped signs use electricity, but much less than an incandescent bulb, which require replacement every 18 months to two years. LEDs last from 10 to 15 years, Warner said.
The city also will replace its almost 5,100 traffic signals with LEDs and expects much lower replacement and maintenance costs as a result, allowing the almost $1 million investment in the new street signs.
Warner said current labor and equipment costs for traffic signals are $36,000 per year. The energy savings for LED-lit traffic signals is $127,000 per year, resulting in an overall cost reduction of $163,000.
The investment in changing out the lamps in the traffic signals is $535,000, which would take between three and four years to amortize from the cost savings.