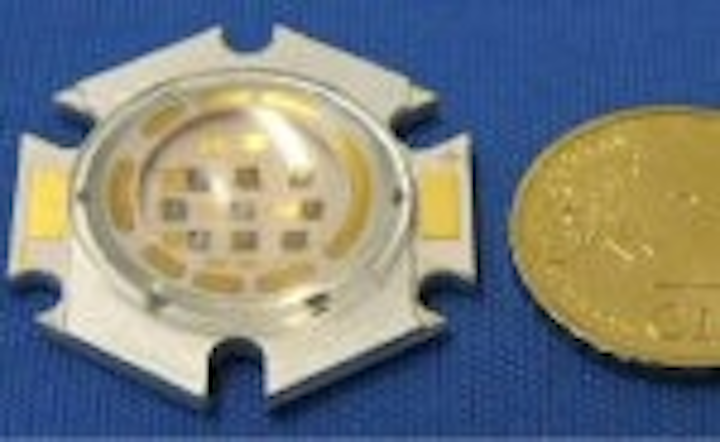 Noctron, a Luxembourg-based innovator and manufacturer of solid-state lighting technology, is planning to introduce two innovative patent-pending high-power LED elements, Noctrix and Noctrel.
The company says its goal is to provide innovative lighting for design-oriented applications to meet the increasing demand for modern, energy-efficient lighting solutions. The prototype devices will be presented during the Luxembourg Trade Mission to the People's Republic of China in September.
Noctrix is a high-power, multi-chip white LED with an output of 200 lm at 350 mA drive current and a forward voltage of 10 V (3.5 W), equating to a luminous efficacy of 60 lm/W. Richard Witter, Noctron's Head of Marketing told LEDs Magazine that the device is likely to be operated at 6-8 W.
The above results were achieved using a common phosphor mix, but the company says an alternative mix increases the tested Noctrix light output at least by 10%. "For our new phosphor mix we add some active crystals (patent filed) that enhance the light extraction due to the chaotic structure of the mix," says Witter.
Noctrel is an encapsulated high-power solid-state light element providing light output in all directions, like an incandescent light bulb. The encapsulated solid-state element can be used in almost any light fixture designed for 360 degrees light emission.
"The current Noctrel is a 6 chip matrix, containing flip-chip LEDs bonded on a transparent substrate," says Witter. "This allows the light to escape in all directions." The base element measures 7.8 x 4.0 mm, and several such elements can be joined to give a single light source depending on the application.
Witter says that Noctron has filed patents relating to its packaging and bonding technologies. Based on its IP, Noctron plans to seek joint venture relationships with Chinese manufacturers, as part of its strategy to competitively enter the international marketplace.
Witter says that China is committed to LED lighting and that the production capacity is also available for certain LED products. "There is also the desire to break free from the very big players of the LED arena, which control much of the market through their IP rights," he says.
The marketing power of the Chinese industry is obvious, adds Witter. "So if we want to get with a new product onto the market quickly and efficiently the [best] option is to act through Chinese partners."