SIGNS & DISPLAYS: Cinema signage, Sports arena displays
A total of 5.2 miles of LED channel letter lighting has been used to rebrand a UK cinema chain, while Odeco has installed 100 square meters of LED display screen in a Madrid sports venue.
Mar 8th, 2006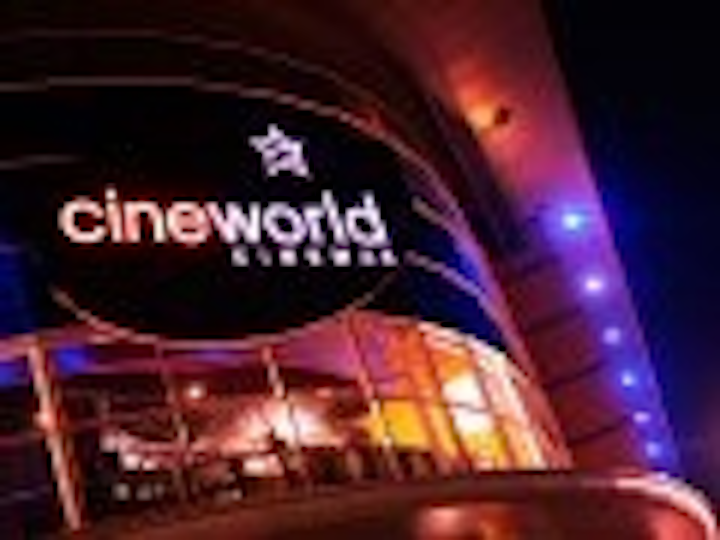 LED lighting now showing at a Cineworld near you
A total of 5.2 miles of LED channel letter illumination has been used to rebrand numerous UK cinemas, using TIR's LightScript supplied by Robert Horne Sign & Display.
When Cineworld, the UK's fastest growing multiplex cinema chain, purchased UGC cinemas last year, it found itself with 55 new sites in need of re-branding. Existing Cineworld sites used neon signage but for these new locations Cineworld wanted a simple lighting solution that gave them the required brightness, but also longevity, low maintenance and low running costs.
Des Kenehan, director of Image Technique Ltd recommended TIR's LightScript channel letter illumination system as an encapsulated product, completely water resistant and with the required maintenance benefits.
Image Technique completed all 55 site locations, comprising 155 signs for Cineworld Cinemas, within a 12 week programme. "It's a very simple system to use," said Kenehan. "You can easily work out the number of modules you need, and the instructions calculate the transformer requirements. Then you just connect up the chain. We had no issues with installation from the word go, and so had no need to call on channels of support."
Cineworld's new LED signage comprises Red LightScript modules to illuminate the lettering from within the channel letter units, with White LightScript modules behind. This gives a white halo effect to further accentuate the Cineworld branding.
Each LightScript module comprises an LED board housed inside a Lexan polycarbonate optic and sealed against the elements. Modules can then be interconnected to form a system of light sources that can fit into spaces too small for neon – for almost any font or size of letter.
Clare Burke, Marketing & Business Development Manager for Robert Horne Sign & Display, said, "We're finding the demand for LEDs is expanding all the time. Over the last 12 months we've seen interest and orders of LightScript increase and many of the traditionally neon applications are being replaced with LEDs."
Madrid Arena features Odeco LED screens
The Madrid Arena, originally built to be one of the venues for Madrid's 2012 Olympic bid, features 100 m2 of Odeco video screens.
It took an investment of 105 million euros to make Spain's most up-to-date multi-purpose venue a reality. This state-of-the-art multi-use facility, with 30,000 m
2
of floor space, has the capacity to host sporting or cultural events and trade fairs of all kinds, holding up to 10,500 spectators.
To ensure visibility from any seat in the venue and create and sustain the right atmosphere for the events held there, six LED screens made by the Spanish Odeco group have been installed.
A 20 m2 screen is located at each of the four corners of the stands. Two smaller versions of these screens are located in the adjoining venue, the Satellite, each of them covering nearly 8 m2.
The 80 m2 of screens in the main pavilion are constructed out of more than 840,000 LEDs. Despite the luminous setting provided by the 11,000 m2 dome, SMD LEDs were chosen, with a pixel pitch of 12mm and individually controlled by a DC driver. The result is high brightness, evenness and a resolution high enough to cope with the size of the venue and the distances from which it can be seen.