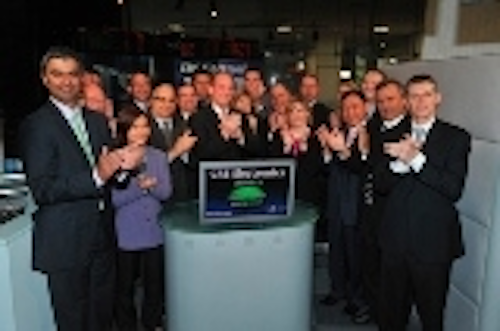 The title of Ernest Hemingway's 1940 novel was repeated Wednesday, May 27th, not for main character Robert Jordan, but for CRS Electronics President Scott Riesebosch, as he sounded the opening bell at the Toronto Stock Exchange (TSX), only 2 days after going public on the TSX Venture Exchange. CRS Electronics of Welland, Canada announced their long anticipated public offering on Monday, May 25th.
Riesebosch, in attendance at Canada's ENERGY STAR Participants meeting on May 25th, said, "After many long months of due diligence and planning we have finally completed our qualifying transaction with Podium Capital and are now listed and trading on the TSX Venture Exchange. We were quite excited to get the ticker symbol LED."
"I think that this development says a lot about our brand, our people, our world-class products, and LED technology in general in that we were able to raise the necessary capital and make this transition in today's market," said Riesebosch.
After he opened the market on May 27th, he added, "Opening the market only 2 days after being listed was truly an honor. Many people have commented that we have come a long way. While that may be true, I see this as just the beginning!"
To further celebrate opening the market, CRS confirmed that its legal counsel, Gowlings LLP, one of Canada's largest law firms, is installing 588 of the CRS LED MR16s in its Toronto office. Gowlings is well known for its energy practices and this installation will mark the most extensive use of energy efficient LED technology in any law firm in Canada.