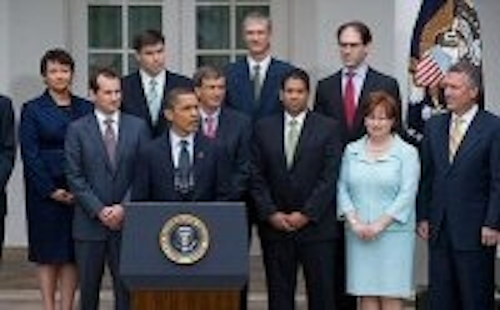 Chuck Swoboda, chairman and CEO of LED maker Cree, joined President Obama at the White House with seven other CEOs to discuss the latest developments in energy-efficient technologies.
Swoboda and the other CEOs, representing American companies "at the forefront of innovation", were invited to meet with President Obama on July 2 to discuss American innovation in areas such as clean energy and the potential benefits to the U.S. economy.
In his remarks following the White House meeting, the President observed, "I just had a meeting with the CEOs of some of the most innovative energy companies in America to talk about growth and progress of a sector that represents a big piece of America's economic future. It's men and women like these who will help lead us out of this recession and into a better future.
"My job – and our job as a government – is to do whatever we can to unleash the great generative powers of the American economy by encouraging their efforts. And when you hear the innovation that's taking place – everything from LED lighting that can save a huge amount on energy costs to new concrete materials….that gets you excited about the future."
"With President Obama's support and the current momentum surrounding energy efficiency and sustainability, there are unprecedented opportunities for U.S. companies, like Cree, to deliver innovative technologies and products to address our current energy challenges," said Swoboda. "Twenty-two percent of US electricity is used for lighting and the widespread deployment of LED lighting can reduce this by more than 60 percent."