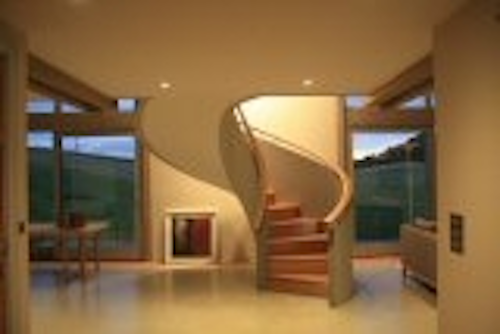 The interior of a large new-build house has been lit entirely with LED downlights, chosen in preference to 50 W halogen lamps.
Featured on Grand Designs (a Channel 4 TV program in the UK) in February 2009, the Marlborough Farmhouse sits in the rolling chalk hills of Wiltshire, UK, a designated area of outstanding natural beauty.
The New Farmhouse is part of a second generation dairy and arable farm owned by Andrew and Meryl Ainslie. The design of the build was developed to blend with existing farm buildings and the surrounding countryside, with a curved metal roof – made of zinc – overarching the whole building
With only a few windows on the north facing wall, the entire south side of the building was triple glazed to trap solar energy and connect Andrew and Meryl to the land.
Inside the building there is an open plan ground floor with two pods containing a utility room and larder. Whilst the first floor has been designed as a suspended gallery set back to allow a full height space along the length of the building and connected to the ground floor by a sculptural helical feature staircase in the centre of the house.
When it came to lighting the building, the electrician was originally planning to install 50W GU10 Main Voltage Halogen lamps, but lighting engineers at Design 360 suggested there was an alternative, more energy efficient and sustainable option.
Using GE Lighting's Vio LEDs, Design 360 developed their G4 3.6W LED luminaire with a total circuit wattage of just 4.5W, considerably less than the 50W GU10 lamps which were to have been used originally. Design 360 installed a total of 98 LED luminaires throughout the entire house.
Jon Baker of Design 360 explains; "LEDs are still a fairly new technology and it is unusual for them to be used to entirely light a domestic build, but Andrew and Meryl were keen to try something new. The energy saving benefits plus the longer life of the GE Vio LEDs provided an environmentally-sustainable lighting solution which they will be able to enjoy for years to come."
Praising the results of the installation, Meryl and Andrew Ainslie said; "Design 360 created the perfect level of lighting for each area of our home. Jon Baker was innovative and responded brilliantly to our brief, using GE's LED down-lighters and taking care to install different coloured reflectors and diffusion glasses to meet our needs."
GE Lighting says that its Vio LEDs use a proprietary violet-chip with remote phosphor technology to provide more stable colour than regular blue chip/yellow phosphor LED technology. Plus, the LED is diffused for a pleasing more uniform light similar to a soft white incandescent lamp.
GE Lighting's Product Manager for Solid State Lighting, Andy Davies says; "Although LEDs require greater initial investment than other lighting options, we are starting to see more and more domestic LED installations. Andrew and Meryl will benefit from the longer term energy and maintenance savings that make LEDs one of the most environmentally sustainable lighting solutions available today. It is testament to the quality of the product that GE's LEDs were selected for this Grand Designs build, and even more so that this has since inspired other customers to install LED lighting. Over the next few years we expect to see considerable growth in the number of householders switching to LEDs."
About Design 360: design360 design and develop energy efficient modern lighting products incorporating state of the art light sources. They pride themselves on their innovative approach to sustainable luminaire design. Employing computer analysis they develop fittings that deliver high quality efficient long life light for all applications.