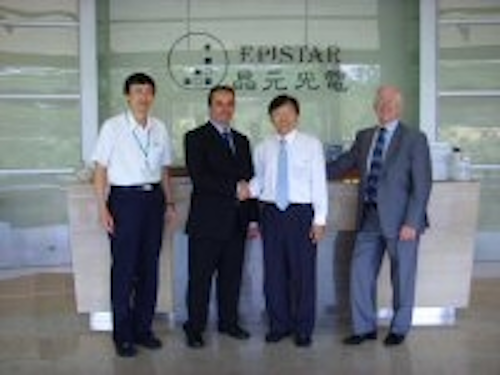 Epistar Corporation, Taiwan's largest LED epiwafer and chip maker, has entered into a strategic equity investment and license agreement with Lynk Labs Inc., the leading supplier of AC LED device, light engine and power supply technology. Terms of the deal were not disclosed.
Lynk Labs has been building an LED technology patent and product portfolio since 2002 with a focus on AC LED technology. The portfolio includes fundamental core AC LED circuits that can be integrated at the chip level as well as drive methods and product or system level solutions. With over 50 patents filed to date, the company's first US patent, no. 7,489,086 entitled "AC light emitting diode and AC LED drive methods and apparatus" was granted early this year (see News). Lynk will soon be announcing more approvals in major international markets.
In March 2009, Epistar announced plans to enter the AC LED market with single-chip AC LED technology (see News). The company has been developing AC LED chips since 2004 and has also filed more than 10 patent applications in related fields. Last year, Epistar obtained a patent license from ITRI, the Taiwan-based Industrial Technology Research Institute also developing chip-level advancements in AC LED technology.
Through this strategic partnership, Epistar and Lynk will be sharing and leveraging technology, expertise from both companies to develop new AC LED technology, and IP and products including single-chip and system level solutions for the lighting industry according to Lynk Labs.
"We're honored to have Epistar as an investor and strategic partner. Having access to Epistar's chip-level design and manufacturing expertise will allow us to advance AC LED technology as well as accelerate its adoption into all areas of lighting where AC LEDs can deliver an advantage," said Mike Miskin, Lynk Labs' President/CEO.
AC LED technology based products continue to show advantages over DC in many applications when being integrated into the AC power infrastructure. "AC LED technology creates a new era in the industry and Lynk Labs has been the pioneer driving AC LEDs into the market for many years now," said Dr. B.J. Lee, Chairman of Epistar. "We are very pleased and excited about entering into this strategic partnership with Lynk Labs to join resources and bring to market next generation AC LED based technology products."
About Epistar Corporation
Epistar Corporation, headquartered in the Hsinchu Science-based Industrial Park, Taiwan since September 1996, focuses on developing, manufacturing and marketing high brightness LED products. Applying its own proprietary Metal Organic Vapor Phase Epitaxy (MOVPE) technology, Epistar has successfully commercialized the full spectrum range of high brightness LEDs with the characteristics of compact size, low power consumption and long operation lifetime.
About Lynk Labs, Inc.
Lynk Labs Inc., headquartered in Elgin, Illinois, USA since September 1997, is the leading developer and manufacturer of patented AC LED technology and other patented LED lighting system solutions including display and communication markets. Lynk Labs provides OEMs with LED bulbs, modules, power supplies or total solutions for LED lighting system applications in general and specialty lighting.