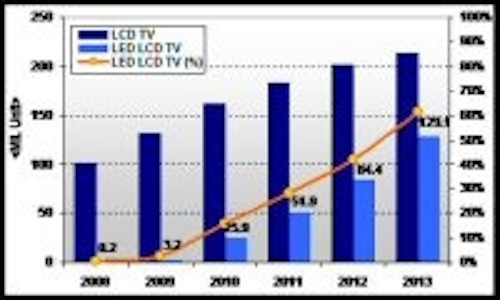 The LED-backlit Liquid Crystal Display (LCD) TV market is expected to grow to 26 million units in 2010, comprising 16% of the entire LCD TV market, according to market research firm Displaybank.
The LED LCD TV market recorded 3.1 million unit shipments in 2009 is expected to grow to 26 million by 2010 and 129 million by 2013, when it will have a share of 61.5% of the whole LCD TV market.
These and other findings are disclosed in Displaybank's newly updated LED LCD TV Maker's Roadmap and Market Forecast, which covers TV makers product roadmap as well as market forecast for LED LCD TVs.
In 2009, says Displaybank, TV makers showed two-way competition between direct-type models that allows better picture quality and edge-type models that allow slimmer product. Consumers largely chose slimmer edge-type models and many TV makers have launched edge-lit LED LCD TV actively from the second half of 2009. Continuing this trend, edge-type LED LCD TV is expected to comprise 82% of all LED LCD TV and continue to show strength in 2010.
Allan Ji, senior analyst at Display Research group at Displaybank tells "looking at the major LED LCD TVs launched in 2009, large-sized models between 40 and 50-inches that show added premium image were dominating but 40-inches and 30-inches are expected to comprise 50% and 29% respectively including expansion into 30-inches models.
Ji added "according to the 2010 TV business plans from major TV set makers including Samsung Electronics, LG Electronics, Sony, Sharp, Philips and Panasonic, most of makers are targeting 2~30% or more than 40% in some cases for the LED LCD TV production in all LCD TV productions but we believe some makers will adjust target quantity according to the key component's supply/demand situation."
Andy Yu, Vice President in Display Research group at Displaybank noted "LCD TV has continuously expanded its market share with rapid technological development in very short period of time. Combination with LED optical source, which adds picture quality, design and eco-friendly factors, is possible to create more added value and year 2010 is expected to mark the beginning of LED LCD TV generalization."
About Displaybank
Displaybank is a global authority in market research and consulting for the display and solar industries. Headquartered in Seoul, Korea, Displaybank has solidified its position as the global leader in the display industry and solar market research by offering analysis based on rapid and accurate information sourcing in order to provide insights into the industry's future. Displaybank's analysts are located throughout Korea, Japan, China, Taiwan, and the U.S., and have been providing analysis in technological developments, market trends and forecasts for more than 10 years. For more information, visit: www.displaybank.com.