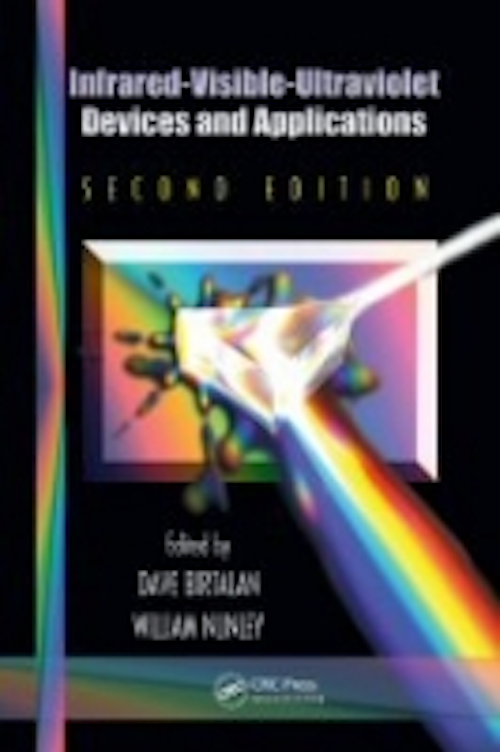 "Optoelectronics: Infrared-Visable-Ultraviolet Devices and Applications"
Published by
CRC Press
(Taylor & Francis Group), this book is now fully revised to reflect current developments and practical considerations for those working in the field. It reviews essential semiconductor fundamentals, including device physics, from an optoelectronic industry perspective. Easy to read and reference, the text provides a practical engineering introduction to optoelectronic LEDs and silicon sensor technology for the infrared, visible, and ultraviolet portion of the electromagnetic spectrum. Design engineers and technical management will find the text supplies quick and uncluttered access to the technical information needed to design new systems.
Highlights of the Second Edition:
Provides an up-to-date and comprehensive review of optoelectronic LED and silicon sensor technology—from theories, to fabrication, to packaging
Reviews technological advancements in silicon electronics made over the last two decades
Covers ultraviolet LED technology—and market applications for this high growth area
Includes an applications section organized by industry: general industrial, automotive, military, consumer, medical, telecommunications, and SSL
Investigates visible LED technology and the ways to produce white LED light for conversion to solid state lighting (SSL) from conventional incandescent and mercury based lamps
Edited by William Nunley and Dave Birtalan, this new edition updates and expands on its 1987 predecessor. Experts responsible for many advances in the field write the chapters that provide engineers with a fundamental understanding and the technical information that they can use as technicians or build upon for their own design.
ISBN 978-1-4200-6780-4. Contact: orders@taylorandfrancis.com.

"Photonics Essentials, 2nd Edition"
Photonics Essentials, published by
McGraw-Hill Professional
(ISBN I9780071629355) introduces the principles of photonic devices to a younger generation of students and engineers. This textbook is an innovative approach to photonics education that targets 2nd or 3rd year university students as well as engineers, who are looking for practical expertise rather than abstract theory.
The author, Thomas Pearsall, is General Secretary of EPIC, the European Photonics Industry Consortium. With more than 80 member organizations and 400 associate members, EPIC is the major photonics industry organization in Europe, supporting developments in solid-state lighting, telecommunications, lasers, biophotonics and sensors and displays.
The book stresses hands-on measurements techniques common to all photonics devices with numerous worked examples of measurement and characterization problems. Filled with these real-world examples that feature commercially available instruments, this practice-based book enables readers to analyze, characterize, and handle any kind of photonic device. The 2nd edition is thoroughly revised and contains a new chapter on OLEDs for display and lighting applications.
The table of contents is:
Ch.1 Introduction
Ch.2 Electrons and Photons
Ch.3 Photodiodes
Ch.4 Electrical Response Time of Diodes
Ch.5 Photoconductivity
Ch.6 Light-Emitting Diodes
Ch.7 Organic Light-Emitting Diodes
Ch.8 Lasers
Ch.9 Direct Modulation of Laser Diodes
Ch.10 Optical Fibers and Optical Fiber Amplifiers
Ch.11 Measurements in Photonics
Ch.12 Experimental Photonics: Device Characterization in the Laboratory